So, I'm entering week two of my self-inflicted month of financial flagellation, and to be honest, I'm no longer about this broke life.
Two unique events occurred in the last seven days which have delivered me to this conclusion, but first, a little background.
I am embarking on the 30 Day No Spending Challenge (you can see how I prepared for it here), and now that I'm fully in the throes of un-profitable passion it's not exactly going to plan.
My 30 day "no spending" challenge was interrupted by a broken iPhone and a craving for Raisin' Canes pic.twitter.com/N9MWFrUFbr

— Elizabeth Williams (@ElizabethGraceW) March 5, 2017
For those who don't know, the 30 Day No Spending Challenge focuses on benefiting your bank balance through a tight budget for four weeks.  I have a student loan to pay for and rent and bills to manage, so splurging on the finer things should be a rare treat rather than the norm.
However, in any case, that happens, and there is an absolute emergency. I that case, I am likely to take the help of a small loan for personal needs with affordable rates. So, I can stay focus on my plan and repay them.
I have zero savings and no fall-back plan, and I have the attitude that when I earn more, I'll save more, which is probably the same as most of my fellow 23-year-olds.
Most adventurers into this monetary management challenge stick to a budget of about €50.00 a week, to spend on groceries, transport and socialising.
The challenge omits things like rent and utilities, as it is all about making the most of your disposable income rather than getting you evicted.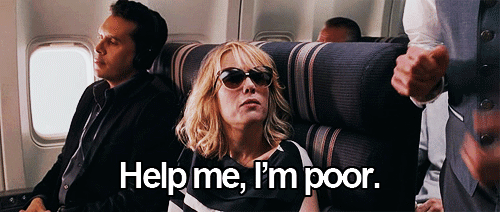 So, the first of the two big events was the grocery shop.
As my transport to work costs me about €30.00 per week, I am left with a paltry €20.00 to survive in this cruel, capitalist society.
This twenty quid has to cover all of my food shopping and socialising, but as I'd rather stick my head in a bag of Doritos and watch Netflix than hit the town this week, I made groceries my big investment.
Luckily, I already have a few bits and bobs in the pantry such as pasta and rice, but I needed to acquire the fresher ingredients for my meals.
If anyone ever saw my bank statement, it'd just be a food diary separated by ASOS & random ridiculous purchases (oh HI metallic balloon dog) pic.twitter.com/In0sgxa2pg

— Amy Lo (@amylo_92) February 21, 2017
Being a vegetarian, my grocery shop is already a fair bit cheaper than that of a carnivore, and for approximately €12.57 I managed to get all my veggie burgers, Koka noodles, sauces, cereal and a very ugly sweet potato. But hey, it's not all about looks.
However, it was pretty difficult not being able to give in to my random cravings for honey roasted peanuts or Corner yoghurts. At one point I had a very dramatic "it's not you, it's me" moment at the bakery counter with a pain au chocolate that was calling my name.
But, armed with my list and utilising the built-in calculator on my phone, I managed to resist (after whispering that I would come back for it next month).
The pain au chocolat moment was tough, but I wasn't prepared for what was yet to come.
During the week, ASOS decided the time was right to have a sale without consulting me first, which was a blow to say the least.
The fact that I actually probably could afford a few of the sale bits while remaining in-budget, but worrying about potentially having to sacrifice something later in the week was complete torture, and much worse than simply not being able to afford it at all.
I mean, I can't afford a Birkin any day of the week and that doesn't bother me, but if I could then it might be a different story.
I'm keeping my fingers crossed that the divine black jumper I spotted will still be both available and on sale come the end of the month, but I won't hold onto hope.
Until next week, me and my remaining €7.43 will be continuing to coast by on my pocket of loose change.
Me: I've got to stop spending moneyAlso me: pic.twitter.com/cICoQO5kTi

— no (@tbhjuststp) April 8, 2017
On learning things from this challenge, it's definitely making me appreciate the actual value of the money I earn.
I'm sure there are plenty of people who can't even entertain the idea of a pack of pastries or a quick online shop, so learning to live a lot more frugally is definitely making me entirely grateful for the things that I have.
Despite the fact that we all complain about the rent in Dublin, the cost of wifi, and get a shock when we see our bottomless brunch bill, there are plenty of people in this country who are far, far worse off, with much bigger money issues than not getting that ASOS jumper.