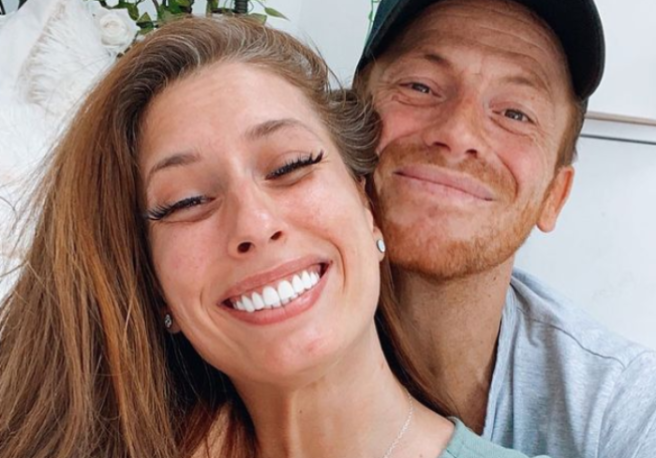 Stacey Solomon emotional as she pens moving tribute for husband Joe
Stacey Solomon is pulling at our heartstrings.
The Loose Women star has admitted to getting tearful as she shares an emotional tribute for her husband Joe Swash.
Stacey has opened up about Joe being a 'positive influence' and 'best male role model' for her sons, 15-year-old Zachary and 11-year-old Leighton, whom she had during previous relationships.
In the touching tribute posted to social media, the 34-year-old shared a video consisting of snippets of Joe with Zach and Leighton from throughout their childhood.
Unveiling the moving footage to her 5.8M Instagram followers, Stacey set the video to the Sinhead Harnett's song Unconditional.
She captioned the post, "I just can't. Keep seeing this trend. I'm not usually a trend girl but this one really speaks to my heart… I cry every time I see someone's. So I decided to make one too. Now I'm crying".
"I think it just reminded me how small the boys were when i met Joe & what a massive positive, special influence Joe's been on their lives".
"Also now they're teenagers we don't get as many videos which also made me cry @realjoeswashy You're the best male role model our boys could wish for".
The TV presenter closed off by sweetly adding, "We are so lucky to have found you. To the moon and stars and back again bub. No steps, No halves, just family".
Many fans and famous faces headed to the comments to compliment the sweet tribute Stacey wrote for Joe.
Cleaning influencer and pal of Stacey's, Mrs Hinch, penned, "I'm crying. Just adorable xx".
"Ahh that's lovely", wrote In the Style CEO Adam Frisby while blogger and author Lydia Millen commented, "This is very very special".
While Stacey had Zachary and Leighton before she met Joe, the couple, who tied the knot in July of last year, share four-year-old Rex, two-year-old Rose and baby Belle together.