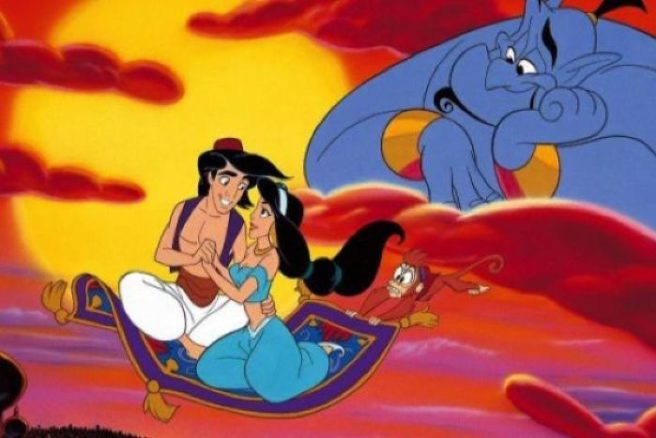 The nostalgia is real: Aladdin's new poster looks amazing
We are more excited than every for the upcoming year's Disney mania.
So many of our favourite animated films are being remade as live action stories, cast with fantastic actors.
And one of the movies with the biggest hype is Aladdin.
The heartwarming tale follows a Disney princess as she falls head over heels for a 'bad boy' with a golden heart.
One day, one day #Aladdin #Genie #Jasmine #Disney pic.twitter.com/NkrSkvqMra

— Michelle Moreno (@MissMoreno25) January 11, 2015
Forbidden love, far off places, a pet tiger, magical carpets, and a whimsical genie – the story opens up a whole new world for fans everywhere.
With much awaited anticipation, the first film poster has finally been revealed.
Will Smith, who will be playing The Genie, shared the cinematic surprise to Instagram page.
"LEMME OUT!! Can't wait for y'all to see Me BLUE!" he said.
It features the iconic lamp that is home to the hilarious genie with colourful wisps of ancient magic slipping out its spout.
As of now, the film's release date is set for May 24th, 2019, and we cannot wait!
Alongside Will Smith, actors confirmed for the Disney remake include Mena Massoud (Masters in Crime), who will play Aladdin, and Naomi Scott (The 33) starring as Jasmine.
My daughter is so excited about this new live-action version of #Aladdin
She shouted, "@NaomiScott is going to be Jasmine!"
I was like "Who?"
"She was the pink power ranger & Mohini from #LemonadeMouth, Duh dad!"

Silly me… pic.twitter.com/h7kl0VAI5V

— Doriano Carta (@Paisano) October 11, 2018
Jafar will be played by the award-winning Marwan Kenzari, known for The Murder on the Orient Express .
And Saturday Night Live's Nasim Pedrad has been cast as Jasmine's loyal handmaid Dalia.
Aladdin will be directed by Sherlock Holmes' Guy Ritchie as well.
Disney teased that we will get the 'first look' at the film tomorrow so stay tuned.
The movie should be amazing and we are excited to relive one of their childhood favourites.