'Fingers crossed': Is Kim Cattrall getting her own SATC spin-off?!
When you look back on Sex and the City, a lot of questions need to be asked.
For example, how did Carrie afford that NYC apartment with only a weekly/monthly sex column? How did she afford all of those shoes as well?! And how on earth did Kim Cattrall not get her own show?!
After all was said and done with SATC, Kim's character Samantha totally came out on top. Compared to Carrie, Samantha was ahead of her career game, didn't take sh*t from anybody (including guys) and was just an all-round badass.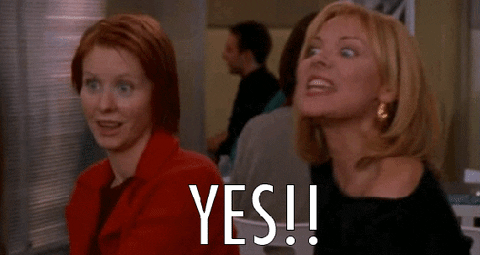 So, you can only imagine how excited we were to hear that Kim is in talks to have a SATC spin-off.
Throughout the years there has been numerous rumours of another series, and indeed another movie, but they went away as fast as they came.
However, this time around, Kim gave a little hint on Twitter that this spin-off might actually happen.
Finger's x'd… https://t.co/qMwq5w5z0k

— Kim Cattrall (@KimCattrall) November 12, 2016
After US talk show host, Wendy Williams posted a video on Twitter stating that "reportedly Kim Cattrall is in talks with HBO to reprise her role as Samantha Jones," Kim saw and simply tweeted, "Finger's x'd."
2018 will mark the 20th anniversary of the show, so hopefully this will all work out. Our fingers are definitely crossed.