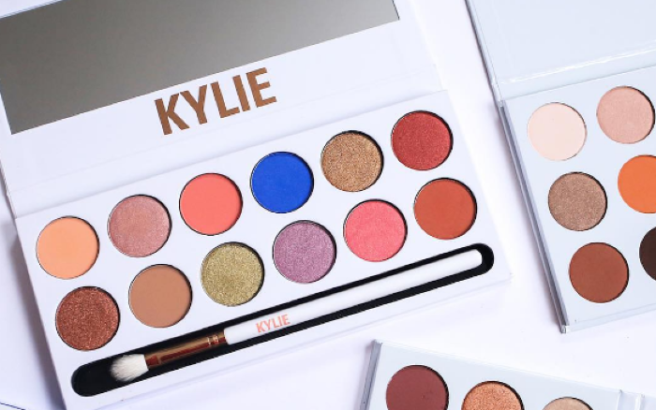 People are giving out about Kylie's Peach Palette for a weird reason
Kylie Jenner has been the talk of the beauty business this week with the launch of her hotly anticipated Valentine's Day collection.
However, talk has turned to one of her older Kylie Cosmetics releases.
The makeup mogul's Peach Palette sold out in mere minutes, as do all of her products, and fans were in awe of the vibrant colours and improved packaging.
Why does my Kylie Peach palette smell like paint thinner

— Yazmin (@Sourmilkbabie) January 25, 2017
Just got the royal peach palette and it smells like really strong chemicals… @KylieJenner pic.twitter.com/TQ43G8xwmZ

— Virginia Garcia (@VickyyVicksz) January 26, 2017
Unfortunately, once makeup lovers began receiving their anticipated palettes, a recurring issue emerged.
Many Kylie fans have complained about a strong, chemical smell emitting from the eye shadows.
guys please be careful with the new royal peach palette if yours has the smell too. I genuinely don't think it's safe

— Avery (@hexviside) January 24, 2017
Got my @kyliecosmetics royal peach palette, opened it, and it smells so strong of chemicals and glue that it gave me an instant headache

— (@yeababe_noway) January 17, 2017
Some customers are even questioning whether the makeup is safe to use due to the allegedly overpowering scent.
Customers had previously been wondering if the palette would be peach scented, so they must have gotten a bit of a shock when they dicovered the chemical aroma.
Someone wanna explain why my Royal Peach Pallette smell like chlorine

— katrina (@vande_groenekan) January 25, 2017
Other customers have said that there is no issue with the scent of the makeup they received.
Kylie and her cosmetics camp have yet to comment on the issue.