O'Hara's steel cup to tackle issue of single-use plastics at Irish festival
Greenpeace has reported that an estimated 12.7 million tonnes of plastic end up in our oceans every year. Shockingly, 8.3 billion metric tons of plastics have been produced in the last 60 years, only 9 percent of which was recycled.
Single-use plastic, in particular, is having a profound negative effect on the planet, but thankfully, people are starting to realise this and do something about it.
First came the plastic straws and the push to reduce our need for them, then disposable coffee cups, many of which are now fully compostable, and now it's the turn of those plastic cups we drink pints out of at festivals.
And O'Hara's Brewery are leading the way in putting an end to single-use plastic cups at festivals once and for all.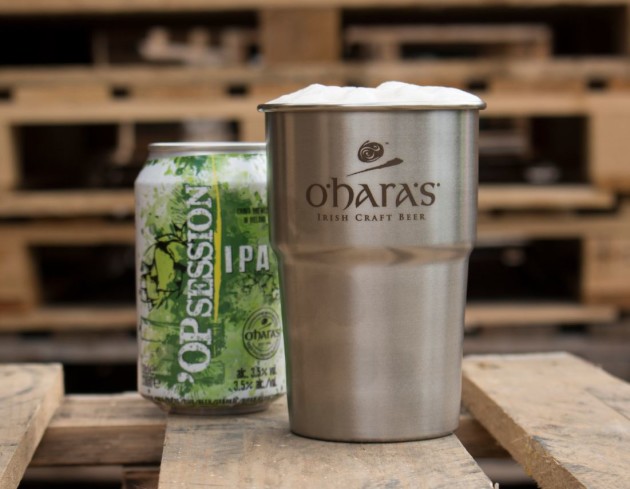 The official partner of this year's Another Love Story, Ireland's Best Small Festival, O'Hara's Brewery will help offset the festival's environmental footprint by supplying happy revellers with reusable, recyclable and environmentally friendly steel pint cups.
"As an Irish craft brewery, creativity is at the core of what we do. Craft beer is all about exploring new tastes and pushing boundaries, and when the opportunity arose to come on board as an official partner of Another Love Story, we jumped at the chance," Seamus O'Hara, Founder and CEO of O'Hara's Brewery said.
"I think it's a perfect fit for us and has one of the best line-ups of independent Irish music around. The sustainable ethos of Another Love Story is also an element of the festival that I am very attracted to. In our brewery in Carlow we constantly strive to reduce our carbon footprint and are an active Origin Green member. We have supported a number of festivals over the years but the issue of plastic pint cups has been a bugbear of mine for some time and that's why we are delighted to introduce the O'Hara's Steel Pint Cup.
"The cups will provide festival goers with an alternative to single use plastic cups so they can truly enjoy that festival feeling guilt free! I hope it is something that Another Love Story attendees will embrace and that it is a small but significant step towards a truly plastic-free Irish music festival!"
The O'Hara's Steel Pint Cup costs €10 and includes a free first pint at the bar. Festival goers can use it for the duration of the weekend and beyond as the stainless steel cups have been designed for a long life.