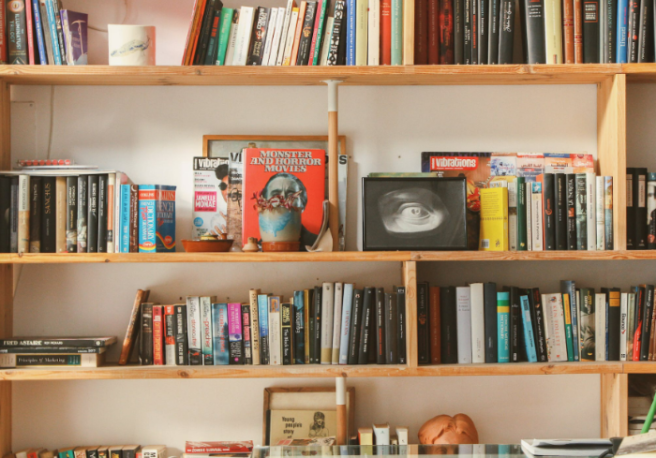 New year, new books: We can't wait to read these novels in 2023
Christmas is well and truly over and now that we're getting back into the swing of things again, it's time we really settle into a routine. We all know that the new year is the perfect time to set yourself new goals and we've decided that reading more is going to be our main one.
We love getting lost in a good book, but with social media and Netflix just a push of a button away, it's too tempting to pick up your phone and waste hours of your life endlessly scrolling. That's why we're determined to read more brilliant books this year. To help reach our goals, and to help fellow book-lovers out there, we've put together the ultimate list of fabulous books being released in 2023 that we can't wait to get our hands on.
From fantasy and romance to crime and thrillers, there's something on this list for everyone. Check it out below and add these wonderful books to your 'To Be Read' list for 2023!
Age of Vice by Deepti Kapoor
Published by Fleet on January 3
New Delhi, 3 a.m. A speeding Mercedes jumps the curb, and soon five people are dead. It's a rich man's car, but there is no rich man at all, just a shell-shocked servant. In the shadow of lavish estates, extravagant parties, predatory business deals, and calculated political influence, three lives become dangerously intertwined: Ajay is the watchful servant, born into poverty, who rises through the family's ranks. Sunny is the playboy heir who dreams of outshining his father, whatever the cost. And Neda is the curious journalist caught between morality and desire. Against a sweeping plot fueled by loss, pleasure, greed, yearning, violence, and revenge, will these characters' connections become a path to escape, or a trigger of further destruction?
Dead Man's Creek by Chris Hammer
Published by Wildfire on January 5, 2023
Homicide detective Nell Buchanan returns to her hometown, annoyed at being assigned a decades-old murder- a 'file and forget'. But this is no ordinary cold case, her arrival provokes an unwelcome and threatening response from the small-town community. As more bodies are discovered, Nell realises that finding the truth could prove more difficult and dangerous than she'd ever expected. The nearer Nell comes to uncovering the secrets of the past, the more treacherous her path becomes. Can she survive to root out the truth, and what price will she have to pay for it?
Manifest: Dive Deeper by Roxie Nafousi
Published by Penguin Books on January 5, 2023
This book takes you deeper into your inner healing journey and expands your understanding of each of the unique seven steps to manifestation. Roxie Nafousi provides practical techniques to teach you how to harness your potential and confidently step into your power. Each chapter is filled with exercises that are designed to cultivate self-awareness, reflection and growth, and therefore empower and enhance your manifesting process.
Hell Bent by Leigh Bardugo
Published by Gollancz on January 10, 2023
Find a gateway to the underworld. Steal a soul out of hell. A simple plan, except people who make this particular journey rarely come back. Galaxy 'Alex' Stern is determined to break Darlington out of purgatory. Alex and Dawes can't call on the Ninth House for help, so they assemble a team of dubious allies to save the gentleman of Lethe. Together, they will have to navigate a maze of arcane texts and bizarre artifacts to uncover the societies' most closely guarded secrets. When faculty members begin to die off, Alex knows these aren't just accidents. Something deadly is at work in New Haven, and if she is going to survive, she'll have to reckon with the monsters of her past and a darkness built into the university's very walls.
The Helpdesk by Shane Dunphy
Published by Hachette Ireland on January 19, 2023
James Fitzpatrick is a high-profile partner in one of London's most successful law firms. He's married to Bella. She's beautiful and clever, a teacher at one of London's most prestigious schools. They have the perfect lives. One night, a career-ending error sees James contact the IT helpdesk in desperation. A woman called Charlotte answers his call, setting in motion a series of events that would shatter James' and Bella's lives. But who is the woman at the other side of the computer screen? And why is she out for revenge?
A Winter Grave by Peter May
Published by Riverrun on January 19, 2023
A young meteorologist checking a mountain top weather station in Kinlochleven discovers the body of a missing man entombed in ice. Cameron Brodie, a Glasgow detective, sets out on a hazardous journey to the isolated village. He has his own reasons for wanting to investigate a murder case so far from his beat. Brodie must face up to the ghosts of his past and to a killer determined to bury the chilling secret that his investigation threatens to expose.
White Riot by Joe Thomas
Published by Arcadia Books on January 19, 2023
1978: The National Front is gaining ground in Hackney. To counter their influence, anti-fascist groups launch the Carnival Against Racism in Victoria Park. Observing the event is Detective Constable Patrick Noble, charged with investigating racist attacks in the area and running Spycops in both far-right and left-wing groups. As Noble's superiors are drawn further into political meddling, he's inveigled into a plot against the embattled Labour government.
1983: Under a disciplinary cloud after a Spycops op ended in tragedy, Noble is offered a reprieve by an old mentor. He is dispatched to Stoke Newington police station, where a young black man has died in suspicious circumstances. This is Thatcher's Britain now, a new world that Noble unwittingly helped to usher in, where racial tensions are weaponised by those in power.
Amazing Grace Adams by Fran Littlewood
Published by Penguin Books on January 19, 2023
One hot summer day, stuck in traffic on her way to pick up the cake for her daughter's sixteenth birthday party, Grace Adams snaps. She doesn't scream or break something or cry or curl into a ball. She simply abandons her car in traffic and walks away. But not from her life- towards it. Towards the daughter who has banned her from the party. Towards the husband divorcing her. Towards the terrible thing that has blown their family apart. She'll show her daughter that no matter how far we fall, we can always get back up. Because Grace Adams was amazing. The world and her family might have forgotten. But Grace is about to remind them.
Silent Voices by Patricia Gibney
Published by Sphere on February 2, 2023
When Rachel Mullen is found dead by her only sister Beth, Detective Lottie Parker knows that she has been murdered the minute she enters the bedroom. And when Lottie finds a shard of glass placed in the young girl's throat, she fears that Rachel may be just the first victim. The night before, Rachel had attended a party at a new restaurant in Ragmullin, and Lottie wastes no time in tracking down the other guests. Just as Lottie thinks she's onto something, another woman is found murdered with glass in her throat. But Lottie's hunt for the truth must be getting under the killer's skin, because then her beloved fiancé goes missing. Can Lottie get in the mind of this twisted killer before it's too late? Or will the man she loves be silenced forever?
Best Days of Our Lives by Lucy Diamond
Published by Quercus on February 16, 2023
Leni and her sister Alice were best friends as well as siblings. In the hope of coming to terms with her grief, Alice tries to piece together Leni's last weeks, but her discoveries only lead to more questions. Meanwhile, the rest of the family seem to be falling apart. Belinda, Alice's mum, has developed an unhealthy obsession with a clairvoyant, and Tony, her dad, is stressed about becoming a father all over again. As for Will, the youngest McKenzie, he's in denial, having hopped onto a plane to Thailand days after the funeral. Secretly, he's tormented by the part he played in Leni's death and the thing about secrets is, they always come out eventually.
The Last Days of Joy by Anne Tiernan
Published by Hachette Books Ireland on March 30, 2023
Joy, the complicated, troubled mother, has spent her life running from her past while trying to raise her children as best she can. Conor, the high-achieving eldest child is a high-profile media figure and CEO. Frances, the 'perfect' middle child is a wife and mother, but she's about to make a mistake that could destroy her marriage. Youngest daughter, Sinead, is the acclaimed writer of the family. When Joy's children receive the news that she has only days to live, they rush to her side. But there's one more secret about their mother they need to learn. Will they finally be able to forgive their mother and, in doing so, face their futures together?
Camp Zero by Michelle Min Sterling
Published by John Murray on March 30, 2023
down, and humans are implanted with a 'Flick' at birth, which allows them to remain perpetually online. For Rose, a job as a hostess in the city's elite club feels like her best hope for a better future. At a research station, a group of highly trained women are engaged in climate surveillance. And in a former oil town in northern Canada called Dominion Lake, a camp is being built- Camp Zero. A rare source of fresh, clean air and cooler temperatures, it will be the beginning of a new community and a new way of life. Grant believes it will be the perfect place to atone for his family's dark legacy. Everyone has an agenda. So who can you trust?
Eleven Liars by Robert Gold
Published by Sphere on March 30, 2023
Journalist Ben Harper is on his way home when he sees the flames in the churchyard. A boy is trapped inside. With Ben's help the boy escapes, only to flee the scene before he can be identified. Was this an accident, or arson? Then a skeleton is found in the burnt-out foundations. And when the identity of the victim is revealed, Ben is confronted with a crime that is terrifyingly close to home. As he uncovers a web of deceit and destruction that goes back decades, Ben quickly learns that in this small town, everybody is guilty of something.
The Red Bird Sings by Aoife Fitzpatrick
Published by Virago on April 6, 2023
After the sudden death of young Zona Shue only a few months after her impromptu wedding, her mother Mary Jane has a vision- she was killed. And by none other than her new husband, Trout. But, no-one believes her. Her only ally Lucy Frye, an unmarried woman who always suspected Trout's power over her friend. As the trial rises to fever pitch, Mary Jane and Lucy must decide whether to play with fire and reveal Zona's greatest secret. But it's Zona herself, from beyond the grave, who still has one last revelation to make.
Death of a Bookseller by Alice Slater
Published by Hodder & Stoughton on April 27, 2023
Roach, a bookseller, loner and true crime obsessive, is not interested in making friends. She has all the company she needs in her serial killer books, murder podcasts and her pet snail, Bleep. That is, until Laura joins the bookshop- she's everyone's new favourite bookseller. But beneath the shiny veneer, Roach senses a darkness within Laura, the same darkness Roach possesses. As Roach's curiosity blooms into morbid obsession, it becomes clear that she is prepared to infiltrate Laura's life at any cost.
Don't Look Back by Jo Spain
Published by Quercus on May 11, 2023
For one week, everything in Luke Miller's life is perfect. Surprised with a belated honeymoon by his wife, Rose, he's had seven days with her in a Caribbean paradise. But as they pack their bags, Rose breaks down, confessing that on the day they left London, a violent man from her past tracked her down and broke into their home. He wasn't expecting her to fight back. And, in her terror, Rose killed him. Now there's a dead body in Luke's apartment, and only one person he can think of to turn to. Mickey Sheils never expected to hear from Luke again, not after he disappeared the first time.
Someone You Trust by Rachel Ryan
Published by Piatkus on June 8, 2023
Amy jumps at the opportunity when she's offered a nannying job in picturesque West Cork. It's the perfect chance for Amy to start over, far away from her life in Dublin she is trying to escape. With two adorable children to oversee, a pair of generous employers and a lavish new home, everything seems wonderful. So why can't Amy shake a creeping sense of unease? Quickly, it becomes clear that all is not well in the Carroll marriage, nor in their idyllic rural community.
Speak of the Devil by Rose Wilding
Published by Baskerville on June 22, 2023
Seven women stand in shock in a seedy hotel room; a man's severed head sits in the centre of the floor. Each of the women- the wife, the teenager, the ex, the journalist, the colleague, the friend, and the woman who raised him- has a very good reason to have done it, yet each swears she did not. In order to protect each other, they must figure out who is responsible, all while staying one step ahead of the police.
The Five Star Weekend by Elin Hildebrand
Published by Hodder & Stoughton on June 22, 2023
Hollis Shaw, creator of a popular food blog, finds her life turned upside down when her heart-surgeon husband is killed in a car accident. Hollis discovers the idea of the 'Five Star Weekend': a gathering of the best friends from each stage of your life, and decides to host her own version. There's Tatum, Hollis's best friend growing up on Nantucket- and her husband's best friend, Jack, who just happens to be Hollis's first love. Then there's Dru-ann, her best friend from college, now a prominent Black female sports agent in Chicago. Brooke is the best friend who helped raise her kids with Hollis during their thirties, until she was ousted from the local mum's group by Electra. But Brooke and Electra are finally meeting up to make amends this weekend. Lastly, Gigi, who reached out to Hollis on her food blog to become 'internet besties', but has never met her in real life. All the weekend needs is Hollis's daughter Caroline, a documentary student, who wants to film the entire party.