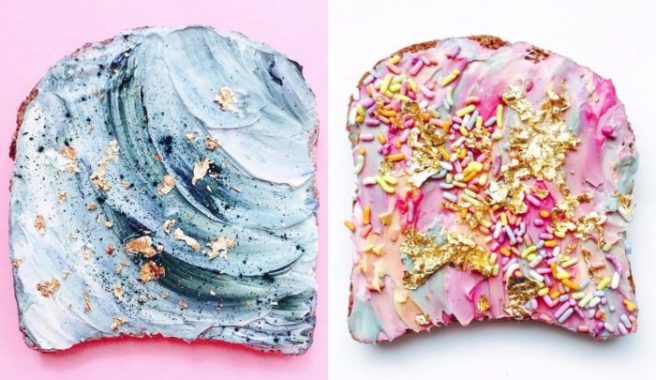 Mermaid and unicorn TOAST is a thing, and we are OBSESSED
The world is obsessed with mermaids these days, with the aquatic theme infiltrating everything, from our makeup bags to our cuisine.
We've seen mermaid cakes and doughnuts, but now mermaid toast is a thing, and we want it for breakfast every single day.
"I used a variety of blue green algae powders and liquids mixed with almond milk cream cheese to create this ocean inspired toast," said foodie Adeline Waugh, who came up with the creative dish.
The stunning toast looks exactly like waves lapping the shore, and we love it.
The creator of this delightful looking breakfast got some heat for the impractical nature of the dish, but had this to say to haters:
"I am a food stylist and I like to create beautiful things using food- I've never claimed to be starting a trend or a putting out a new recipe that is super practical- it's 100% impractical," she captioned an Instagram post about the toast.
"I just like to play around in the kitchen and attempt to create something aesthetically pleasing and unique from time to time."
Kudos to Adeline for committing to her foodie endevours.
The food stylist also created the very dreamy looking unicorn toast, and we're obsessed.
Featuring pastel pink and purple cream cheese and a dusting of sprinkles, the magical toast looks too good to eat.
If only we had time to create mini works of art every morning.
Pass the Nutella!