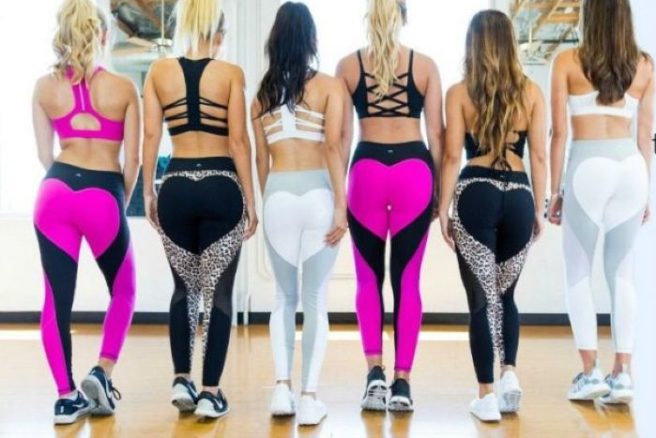 Meet the woman behind Peachy Lean's must-have groovy gymwear
We met Sharon, the founder of Peachy Lean an Ireland-based business providing funky women's gym leggings, who aim to support strong women (like you!) who like to look good while working out in the gym. She spoke to us about her journey so far, its challenges and the advice she would give fellow women starting out.
1. Tell us how Peachy Lean came to be and about its products?
When I was 33, I fell pregnant with my first son, a joyful time, or what was supposed to be.. Unfortunately, I was one of many women who suffered from prenatal anxiety and subsequently post-natal depression (PND). it was a very, very, tough time. I used exercise as a form of anti-depressant and spent every morning in the gym.
I was shocked just how much my body changed after childbirth, my clothing just didn't fit anymore. I was sick of buying branded activewear that was ill-fitting and every time I bent over to do a stretch or squat my rear end would show out the other side!
The activewear leggings I was spending big money on just didn't support women in areas like their tummy and rear pelvis, so, I decided I was going to design and manufacture leggings that were non-transparent, supportive in the pelvis and fit the way they're supposed to.
2. What are the main challenges you face?
Design: I'm not a designer by trade so I'm learning as I go. I'm trying to design for all shapes and sizes but make each woman feel supported. My fabric is unique – if you can imagine Spanx but in leggings – the fabric is spandex and nylon but extremely comfortable and washes well, very important when designing gym leggings.
Time: Not enough hours in a day; multitasking to another level, running a business while being a stay-at-home mum can be quite challenging, to say the least!
Cashflow: Currently I'm self-funded but I will need more investment to be able to grow at the rate I'm growing. New stock costs money and I have so many designs now I want to create and grow my brand in other markets across Europe and the US.
3. What three things could you never have anticipated starting your own business (good or not so good)?
Freedom: to rear my son without the guilt of being away from home all day. I work my own hours, now, that's not to say I don't work hard, sometimes I feel I work two full-time jobs, but I like the freedom of working my own schedule.
Support: there is a ton of support for startups and women entrepreneurs. These are some supports I have accessed on my journey into the business world, mentoring and the likes of: DCU Ryan Academy female high flyers programme, UCD Innovation Academy and Enterprise Ireland New Frontiers programme.
Fun: I have had so much fun creating and growing my business. I think if its not fun you shouldn't be doing it. Don't be afraid to do what you love.
4. What motivates you?
Strong women. I'm super proud to be a strong woman and I have a real passion to support women in their dreams and aspirations. All my life, I was told I was bossy and grew up thinking this was a bad thing. Now when I come across girls who may be bossy I make sure to encourage and compliment them as future leaders or entrepreneurs. I hate seeing girls who may have leadership skills being put down for it. If we all were to encourage each other to do what we love then we might see a more balanced society, where women sit on boards and run major operations, more women in government etc…
"I love seeing other women do well, and reach their goals and dreams, it has motivated me all my life."
Also, I'm super competitive so if I see someone doing something cool I'll always give it a go, especially if I have a passion to succeed in something. Success motivates me.
5. What' the best thing about running your own business?
Freedom – financially, creatively and personally.
I have always wanted to earn my own money and be financially independent.
The freedom of running my own work life schedule, allowing me to enjoy the little everyday things that are important to me. I am very lucky to be able to drop everything and just enjoy a moment with my son as he shows me his latest Spiderman moves or another spins off another rendition of Buzz Lightyear's "to infinity and beyond."
6. What advice would you give any woman starting out on the same journey?
Do it! Please, Don't be afraid, there is so much support out there for women entrepreneurs.
Try not to overthink. Nothing has to be perfect.
Just start with the smallest of things, validate your problem and your solutions by speaking with as many people as you can and before you know it, you'll have the confidence to get going and later on you will look back and think why you hadn't started years ago.
There is nothing more satisfying as a thank you email from a happy customer or waking up to sales in your bank account that you earned and generated all by yourself, it's awesome.
For more information, visit peachylean.com or find them on Instagram or Facebook