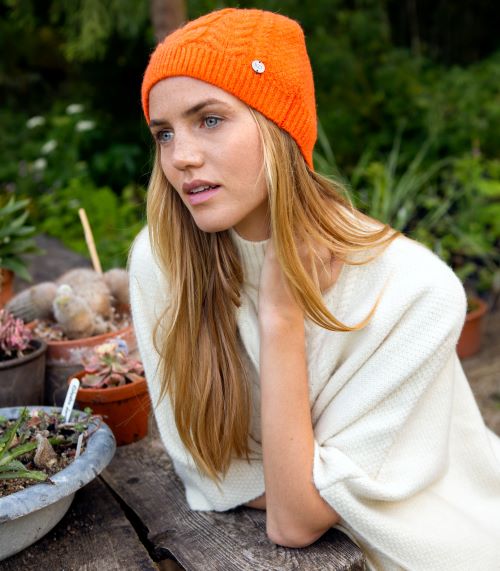 Make like Taylor Swift & invest in a new aran from Kilkenny Design's new collection
Singer-songwriter Taylor Swift and actor Chris Evans are big fans, and retailer, Kilkenny Design, has now chosen a modern take on traditional Aran Knitwear as its first offering in a new bespoke private label collection. The Heritage Collection from Kilkenny Design features women's knit sweaters, capes, buttoned cardigans, accessories including hats, scarves, and gloves, as well as handbags and purses. Some core Aran knitwear lines for men, traditional soft crew-neck jumpers, are also on sale, with the new knitwear collection designed in Ireland and exclusive to Kilkenny Design.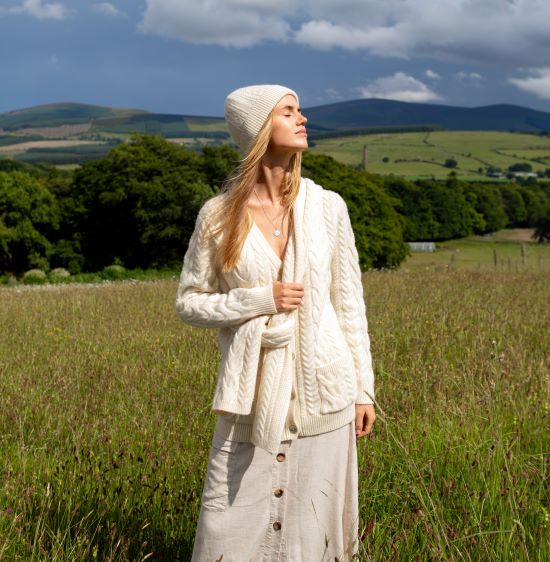 Taking inspiration from the heritage of Aran Knitwear, every stitch tells a story, and has a unique and often emotive meaning, traditionally symbolic of luck, good health, success or abundance. While the collection is rooted in the heritage of Irish knitwear and the origins of Kilkenny Design, the contemporary styling brings innovation and a fresh, modern approach to Aran Knitwear. The collection of crew neck jumpers, cardigans and zipped styles show playful, modern elements that will undoubtedly appeal to a variety of fashion lovers.
A subtle circular 'KD' branded disc reflects archive images of the original arched windows at Kilkenny Design Workshops, in the 1970s, and the pop of pink is a nod to current on-trend 'barbie-core' vibes. The collection, which is exclusive to Kilkenny Design, has been a long time in the making and is created by a talented team of in-house designers, according to company CEO, Evelyn Moynihan.
"We are really proud of the design work, which gives Aran Knitwear a modern twist. The Heritage Collection is a beautiful edit of Aran knitwear and accessories for men and women. The gorgeous colourways, from natural moss green, to orange and pink, will see the jumpers being worn for a day at the office and, equally, fitting right in at a festival. They're versatile and highly covetable!"
60 years of Kilkenny Design
The Heritage Collection marks 60 years of Kilkenny Design in Ireland. Both the design and vibrant colourways in its Aran collection are inspired by historical images from the Kilkenny Design Centre photography archives from the 1960s and 70s.
The colour palate reflects Ireland's natural environment, then and now. Muted landscape tones are complemented with splashes of vibrant colour, including brilliant sky blue, rich moss green, the orange of sunset and autumn leaves, and a coral pink hue of seashell lustre.
The collection is a first ever proprietary brand for Kilkenny Design, working with its long-term designers and suppliers. It is designed to appeal to both the tourist and domestic market.
The Heritage Collection brand logo, on swing tags and point-of-sale, is hand-written by Marian O'Gorman, the Kilkenny Design chairperson, who built up the family business over fifty years. It seems appropriate to launch our first ever private label, majoring on the Aran jumper, Marian O'Gorman says:
"Aran Knitwear goes beyond being a fashion statement. It is rich in history and craftsmanship, and was originally made as a protective layer for fishermen out at sea. We know quality never goes out of fashion, and Kilkenny Design consistently meets demand for affordable quality and style, in all our clothing and homewares. The Heritage Collection is no exception."
Marking the retailer's eco credentials, The Heritage Collection is presented in 100% compostable bags, with labels and swing tags made from recycled card.
The Collection also includes a unique new collection of luxury throws, made for the luxury retailer's private collection in Donegal, by McNutt and it includes knitwear for men and women plus accessories such as hats, scarves, gloves, bags, purses and decorative throws. Knitwear prices range from €99 – €135, with sizes including S – XXL.
The collection is available exclusively online at www.kilkennydesign.com in select Kilkenny Design stores countrywide.