Luas Green Line to be closed for two years due to Metro build
Southsiders – get ready to weep.
The construction of the Metro could reportedly halt Luas Green Line services between Harcourt and Sandyford for anywhere between 18 to 24 months.
Michael McDowell, former Tanaiste and leader of the Progressive Democrats party made the claim in his weekly column in the Sunday Business Post about the stoppage.
Subscription readers of the Sunday Business Post also learnt from Mr McDowell, that every portion of the Luas Green Line would have to undergo a rebuild of their platforms to elevate them.
This comes as the National Transport Authority plans to use high floor metro trains.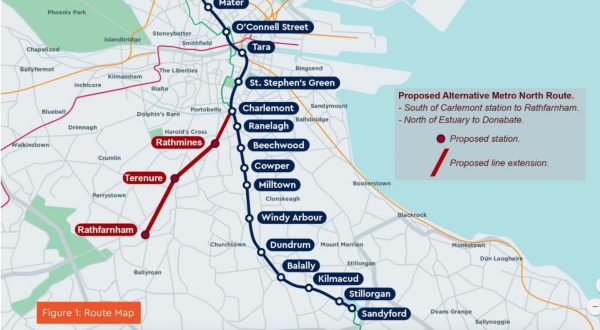 "This means, in turn, that Luas-type trams will never again be able to operate on that portion of the line," wrote Mr McDowell.
The proposed Metro for the Dublin area would run from Swords to Sandyford, the date of completion or the start of the building has not yet been made public.
Before construction has even commenced, the Metro has caused controversy.
Player Jonny Cooper from a Dublin GAA club, Na Fianna took to Twitter to express how the proposed plans would impact their community.
The NTA are forgetting to mention they are TAKING our main GAA pitch and 2 all weather pitches from @clgNaFianna. We cater for 125 teams & have over 3,500 people from the community ENGAGED. This project is supposed to bring people together not force US apart. @Shane_RossTD ?? https://t.co/aROdnaW7c5

— Jonny Cooper (@jcoops) March 22, 2018
This isn't the first time former Tanaiste, McDowell has had qualms with the "monster" Metrolink.
In an April blog, he penned how "we could build between seven and ten surface Luas lines," with the funding for the new Metro.
"Areas such as Glasnevin, Rathfarnham, Coolock, Ballymun, Lucan, Churchtown, Sallynoggin, Deans Grange, Clonsilla, and Palmerstown could be given a Luas tram service as successful and as convenient as the existing Luas Red and Green lines."