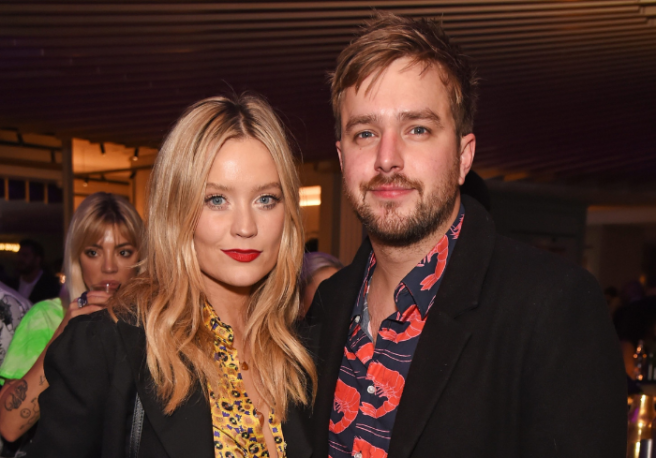 Laura Whitmore pens hilarious birthday message to husband Iain
It's Iain Stirling's birthday today!
The Scottish comedian and the voice of Love Island is turning 35 today, and to mark the special occasion, his wife Laura Whitmore has shared a hilarious birthday message.
Taking to Instagram earlier today, Laura shared a comical clip from the second series of Iain's semi-autobiographical sitcom Buffering, in which she will be appearing in the guest role of TV executive Vic McQuillan.
In the scene, Iain can be seen playing a parody of himself and messily eating a bag of crisps on the set of a show, while Laura's character looks on in disgust.
Speaking to a TV runner, Laura's character hilariously criticises her off-screen husband by saying, "God, he is disgusting, isn't he? Like actually vile, urgh."
When the TV runner informs Laura that she used to date Iain, Laura responds with: "That must have been horrible for you. I am so sorry."
In the caption of her post, real-life Laura decided to be a bit kinder to her husband! "Happy Birthday to the best @iaindoesjokes Thankfully we get on better in real life!", the 37-year-old teased.
"Not going to lie playing this role was fun – Brad & Jen in Friends vibes circa 2001", she continued, referencing the infamous episode of the American sitcom where Brad Pitt guest starred as a former classmate – and hater – of Jennifer Aniston's character Rachel.
"Buffering starts next Monday! We love you really! X", the former Love Island presenter added at the end of her post.
In her comments section, Laura received a wealth of birthday messages on behalf of Iain, who responded to his wife's post himself with four love hearts.
"Brilliant," wrote skincare expert Shane Cooper. "happy birthday @iaindoesjokes".
"Happy birthday @iaindoesjokes", commented TV personality Denise van Outen.
"That is the ONLY way to eat Salt n Vinegar walkers", added women's health activist Mika Simmonds.
Laura and Iain have been together since 2017, after meeting at an ITV party. The pair subsequently tied the knot in 2020, and welcomed their first child, a baby girl, into the world in March 2021.
Happy birthday Iain!