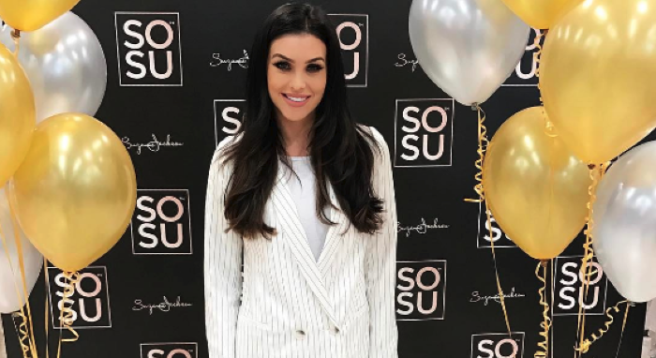 Just in: Suzanne Jackson is CLOSING down her clothing line
After only a few months, Suzanne Jackson has revealed she's closing down her fashion line.
The blogger launched the clothing collection late last year, however she announced today that she will not be restocking any pieces and just wants to sell off what's left.
"I've always wanted to do fashion, but I'm a beauty girl at heart. I was trained in beauty. I've worked in beauty and it's what I know," she told her fans on Snapchat.
"I started the fashion line a long time before it went live at Christmas, and I worked tirelessly on the project. It was really exciting and I really, really enjoyed doing it – but I'm only one person, and I can't possibly do fashion and beauty.
"I was coming up against a brick wall and I just couldn't focus on one thing. You guys know me, I put 500% into everything and everything I bring to market I can put my hand on my heart and say its amazing, but with my focus divided I just didn't want to let the ball drop – so I had to choose.
"It sounds so dramatic but that's the way it is in business, and I'm always as open and honest with you guys as I can be, and right now I've chosen beauty.
"So, the fashion is going to sell out and we're going to get rid of what we have left, which isn't a lot, and I'm not going to go there again for a couple of years," she said.
"You guys have constantly been asking me to restock my jeans and my blazers and constantly complimenting the quality. But I wont be continuing with the fashion, I'm drawing the line and focusing on beauty, and I'm working on about 12 products at the moment.
"I am wrecked tired working on them but that's production and that's what you do when you create your product from absolute scratch, and thats what I do – I don't private label, I create myself and I'm very proud of that.
"So that's where we are, I'm not restocking anything in the fashion. It's going to be all beauty from the summer onwards," she explained.
However, the beauty maven has announced that she will be launching a tan very soon, so keep your eyes peeled.