JEALOUS? Kylie has Tyga CANCEL his tour to bootylicious Brazil
Still very much an up-and-coming rap artist, Tyga is surely eager to secure as many gigs as he possibly can.
But he's now had to cancel no fewer than three heavily-publicised performances that were scheduled to take place in a matter of days in Brazil.
The reason? Well, the furious organisers are placing the blame solely at the feet of the 25-year-old's teenager girlfriend, Kylie Jenner.
In a statement made to Mail Online, the promoters said Tyga's reps had informed them "he would not be coming to Brazil for his shows because he was stopped by his current girlfriend, media personality and socialite Kylie Jenner".
"We are very upset in finding out an artist lacks the professionalism and the love for Brazilian fans, and allows something personal to interfere with his work schedule," they added.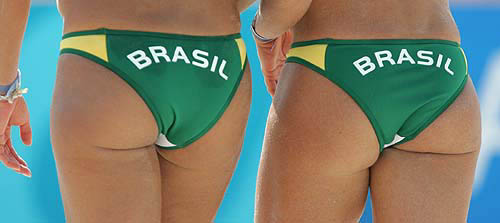 They furthermore claimed that they were only informed of the change in plans earlier this week – with the gigs themselves due to take place from tomorrow in Sao Paulo.
Brazilian fans, however, have been a lot more scathing, with streams of them taking to online platforms to mock the rapper and his reality TV star love.
"Kylie didn't let you come to Brazil because she was worried you'd swap her for a Brazilian," one tweeted to Tyga earlier today.
Also on Twitter, a second fan asked: "Was she afraid he would find someone with a bigger butt than hers?!"
Famous Brazilian beauties include Victoria's Secret models Adriana Lima and Gisele Bundchen.
And for the last three years, Miss Brazil has finished in the Top 10 at the Miss World contest, while the Brazilian contestant has every year since 2011 also finished in the Top 15 at Miss Universe.
As well as damage to his reputation, Tyga will now have to cough up a hefty fine to the organisers of his Brazilian concerts. Here's to hoping Ms Jenner might offer him a loan…