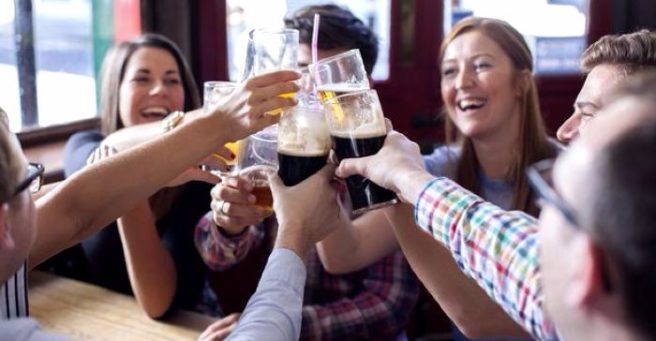 It's International BEER day, here's our ultimate list of Dublin pubs
Today is International BEER Day and if you needed an excuse to go out for one this evening, here it is.
What better way to pay tribute to our national beverage than sharing our favourite places to enjoy a pint?
To celebrate this proud day in style, we conducted a quick poll in the SHEmazing HQ and have come up with our list of the 10 best pubs in Dublin.
You know where to find us this evening…
1. Grogan's
Does this city gem really need an introduction? Among the many reasons we love Grogan's, we have to mention their more than decent toastie, the great pint and the eclectic mix of creatives, young and old.
A little slice of days gone by.
2. Fallon's
Nestled near Saint Patrick's Cathedral, we love this small, cosy, unpretentious pub which also boasts one of the best snugs in Dubbers.
3. The Long Hall
This iconic venue celebrated its 250th birthday last year and was recently awarded Dublin Pub of the Year.
On top of its amazing interior and buzzing atmosphere, the George's Street institution offers the best window for people watching.
4. The Bernard Shaw
It might have a bit of a reputation for being a hipster haunt, but there are few places in the city you'll find such a great mix of people and an equally great vibe.
There are good deals on drinks and if you get a bit peckish or need a little soakage, the Big Blue Bus is perfectly poised to serve up a slice of alcohol-absorbing pizza to sort you out.
5. Kehoe's
Who doesn't love a great old men pub?
This higgledy-piggledy pub has so much character and the best crowd you could hope for.
6. O'Neills
This sprawling venue on Suffolk Street is pretty much a landmark at that stage.
They do delicious food all day, have cheap drinks and live music every night. What else could we ask for?
7. Blackbird
With its quirky decor and covered outdoor area, this Rathmines gem has conquered our hearts – including for the delicious pizzas and fun games which make it that bit different to any other pub.
We definitely recommend.
8. The Beach Tavern
A quintessentially Irish old man pub – with enough craic to last a life time.
A five minute walk from the Aviva Stadium, it is a great spot for a pre and post match pint that won't cost you a fortune.

9. Pmacs
Owned by the same people as Blackbird in Rathmines and Cassidys on Westmoreland St, this fantastic place offers free crisps, board games and britpop/grunge soundtrack.
Oh, and the booze…
10. Toners
As old-school as they come!
This place smells like a pub your grandad would have drank in – and we just love it.
BONUS
The jury wishes to give an honorary mention to The Barge…. on a sunny day.
Although technically that has nothing to do with a pub, the craic is real along the canal when the sun is out.