Ireland's Got Talent stylist Laura Mullett on the judges' sartorial style
By Sarah Murphy
Irelands Got Talent hit Irish TV screens in early February, with guest judges such as Michelle Visage, Jason Byrne, Denise Van Outen and Louis Walsh.
While the judges sparkled in their own right, we had a look at the person behind all the glamorous outfits the judges wore throughout the show. Laura Mullett, a Dublin based stylist, originally from Wexford, had the primary responsibility of styling presenter Lucy Kennedy and two judges, reality show star Louis Walsh and comedian Jason Byrne.
'It was fantastic, I've worked in the industry for almost nine years now and I love it. I've worked on a lot of different TV shows, like Ireland Am, Xpose, Pat Kenny Tonight, but I found with a show of that magnitude everything is heightened, it's very exciting to be part of it," she told SHEmazing.
Funny man Jason Byrne was styled in Moss Bros suits in a variety of colours from maroon to more subtle tones such as light blues and greys.
Speaking of Jason's personal style, Laura said: "I found Jason's style would be more casual kind of, t-shirts and jeans for gigs and a real kind of cool, chilled style, so he wasn't used to wearing suits.
'Initially, we set up our consultation and had a coffee and stuff but I suppose from his perspective he was going to be dressed up in a penguin suit but it was so fun." "I think with Jason especially, he never had that suit experience before, with him his wardrobe would have been more kind of gig clothes and then maybe he was wearing a suit to a wedding.'
'It was amazing to have that trust and make some friends along the way. He looked fantastic."
While Jason's outfits were on point thanks to Laura, the comedian was also adored on the show with his quick wit and humorous comments throughout. "I find with a really good comedian it brings that real Irish element to the show,' said Laura.
'Even from the side perspective of the stage, you're soaking it all in, you're watching the acts, you become so invested in it.
'But his comments had everyone laughing and I think then the chemistry between himself and the likes of Michelle Visage who brings such an experience, like sophisticated glamorous but yet really warm element to it, I think they really bounced off each other."
Judge Louis Walsh described guest Judge Michelle visage as loud and American, but honest and brilliant.
The reality star, best known for her appearance as a judge on Ru Paul's Drag Race certainly did not disappoint with her vibrant, extravagant accessories and outfits during the show.
"My attitude has always been more is more. I think it's really fun for people to showcase their personalities and their quirks. I actually spent most of the series ogling all of Michelle Visages glasses because I am a spectacle wearer myself, her glasses are gold."
"I followed Michelle Visage, I loved her kind of sassy quirkiness. She brings such a cool element into Rupaul's Dragrace and for her to come over we were all so excited, even to get to meet her and see her style in person because it's very authentic in herself.
'I think she is ridiculously fabulous, I wouldn't cringe at all [at Michelle's outfits], if anything I would be looking for tips."
Laura opted for bright colours when styling presenter Lucy Kennedy. She was dressed in a pink jumpsuit from Umit Kutluk, a navy off shoulder look created by Pheonix V Ireland and she was dressed in Mint Velvet for auditions.
The pair had a great relationship on the show, Lucy along with Jason Byrne took to Instagram to praise Laura's taste and style. "I would have spent a lot of time with Lucy, I would have been side of stage for her all the time so when she came off I'd always be fussing at her and picking at her, she was like Cinderella.'
'She's such a lovely person, what I found at the side of stage is when Lucy would come off we would be kind of pottering and chatting, I think it's just such an exciting experience to work with people in such close contact and you get to see their process and how they do what they do. And that sort of unique Irish sense of humour was so prevalent throughout the whole show."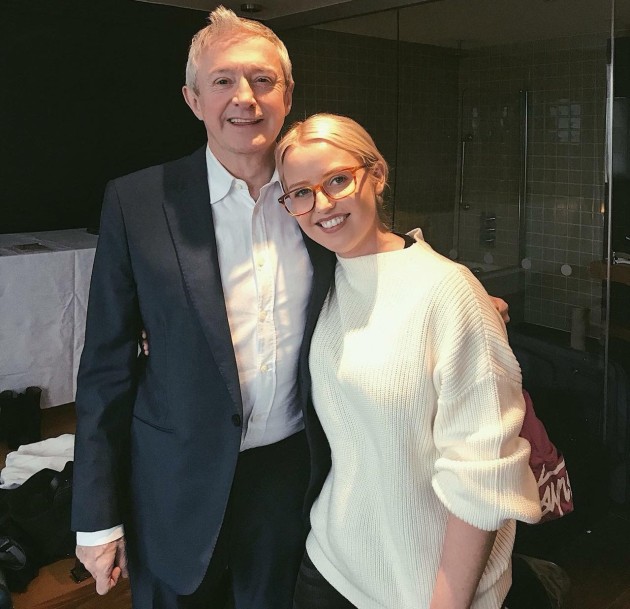 And of course, we can't forget about the main man himself, Louis Walsh. With plenty of experience in the reality TV industry, Louis stayed cool, calmed and collected with a smile on his face at all times.
"Louis Walsh is one of the funniest people I've met. Every time I was dressing him, I would be fixing his dickey bow and he'd go- I can't believe you're from Wexford, he just couldn't get over it, it was so funny.'
'I tried explain to him that there wasn't much of a fashion industry in Wexford and that people do have to move from the country side, we had great fun." "Louis has been working on shows that big for so many years that its second nature, he's quite chilled and relaxed. He would always come in with a big smile on his face. We had a right laugh, we really did.'