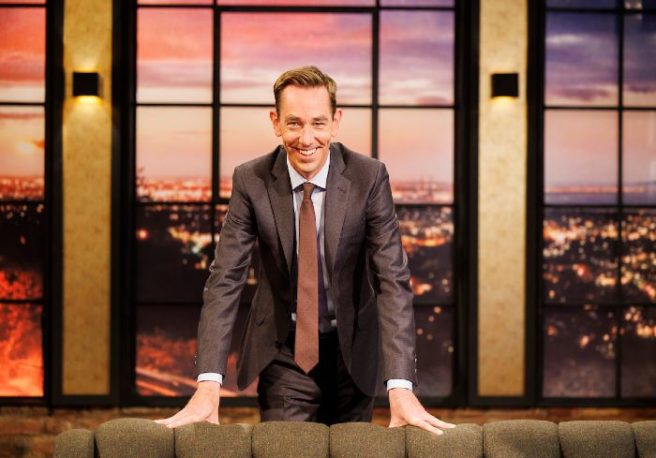 Incredible lineup revealed for this week's Late Late Show
It's almost Friday, which can only mean one thing – this week's Late Late Show is nearly upon us!
The lineup for Friday night's edition has just been released, and we're already looking forward to it.
To mark the 25th anniversary of the Good Friday Agreement on April 10, presenter Ryan Tubridy will be joined in the studio by some of the biggest names in politics and journalism.
Former Taoiseach Bertie Ahern will be on the show to recall his memories of that historic day in 1998. Nicholas Trimble, who is the son of the late former First Minister David Trimble, will explain the risks his father took for the Agreement, and how his childhood was shaped by it. Lastly, Derry-born journalist Aoife Moore will join both men to detail what the Agreement meant at the time, and what it means to people now.
To conclude the Good Friday Agreement commemorations, Brian Kennedy will perform his song Life, Love and Happiness with two cross-community choirs, Cairde Community Choir and Belfast Youth Choir. Brian wrote the song about his feelings towards the peace process in his native Belfast.
Ahead of US President Joe Biden's visit to Ireland next week, the US Ambassador to Ireland Claire Cronin will be spilling all the details about President Biden's plans for his trip. She will also go into detail about her own Irish roots, and how she ended up securing her Ambassador role.
Cheltenham winning jockey Bryan Cooper will join Ryan on the sofa to explain why he has decided to retire from the sport he loves at the age of 30 – and how his fear of failing has affected him.
The GAA championship kicks off again this weekend, and to celebrate the occasion, Ryan will be speaking to some GAA All-Stars about everything to do with trophies, triumphs, losses, and how they're feeling ahead of the upcoming season.
Alanna Quinn Idris was blinded in one eye after being attacked on December 30th, 2021. She will be telling her story live on Friday night, as she recounts how her life has changed since that fateful day.
And that's not all! English singer/songwriter Badly Drawn Boy will also be in the studio to perform Something to Talk About.
So, get ready for tomorrow night, as it's going to be a great one! The Late Late Show airs on RTÉ One at 9:35pm.