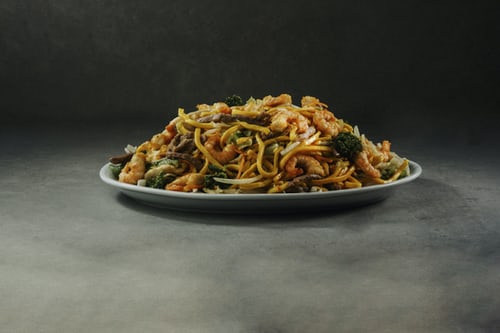 Homemade takeaway: Try out this chicken chow mein recipe
We'll be the first to admit it – we have a dangerous takeaway habit.
By the time it gets to the evenings, we're so exhausted from work and general life that the last thing we want to do is cook… so, a takeaway is always inevitable.
However, it's a habit that we are trying our best to break this year, and the one of the ways to do it is to look forward to trying out new recipes in the kitchen!
We absolutely adore this chicken chow mein recipe – it tastes exactly like your favourite Chinese takeaway, but you're saving yourself a few pennies. Try it out here:
You'll need…
3 chicken breasts
6tbsp soy sauce
5tbsp honey
Salt and Pepper
Smoked paprika
2tsp fish sauce
4tbsp sesame oil
2tbsp olive oil
3-4 nests of dried medium egg noodles
3 shallots
2-3 spring onions
1tbsp peanut butter
3 cloves of garlic
1 head of broccoli
Dice chicken into bite size pieces and place them in a bowl. Season with 2tbsp honey, 3tbsp soy sauce, salt and pepper, 2 tbsp sesame oil, a dash of paprika and 2tbsp olive oil. Stir to coat and leave them to marinate while you prepare your other ingredients.
Slice your shallots thinly, cut broccoli into small heads and mince your garlic.
Heat remaining sesame oil in a wok and toss in your shallots and garlic. Fry them on a high heat for 3 minutes before removing it from the heat.
Boil water and start to cook your noodles, steaming your broccoli at the same time.
Put your wok back on the heat and add in your chicken, cooking through.
Next, add in your steamed broccoli and fry alongside your other ingredients.
For your sauce, add in remaining soy sauce and honey. Next add your peanut butter and allow it to melt before stirring it in. Add in the dashes of fish sauce and let it all sit while you wait for the noodles to be cooked through.
Drain the noodles and add them into the wok and stir them into the sauce and ingredients. Chop your spring onions, using just the green parts and scatter them over the dinner and serve!