'He's still so tiny' Lauren Conrad introduces newborn baby son, Liam
Early last month, Lauren Conrad sent her fans and followers into a tailspin when she uploaded a shot of some embroidery which confirmed that herself and her husband, William, had welcomed a baby son into their lives.
"He's here! We're so excited to welcome Liam James Tell into the world!"she wrote on July 6.
And while fans of the fashion designer were happy to dine out on the upload for a day or two, it wasn't long before the star was asked for snaps of her newborn son.
Choosing to chat with People magazine in the weeks that followed her son's birth, 31-year-old Lauren posed for shots with the little boy and gave an insight into the impact Liam has made on her life so far.
"Before the delivery, I felt like I was getting ready for a blind date," she said.
"We considered doing the 4D ultrasound but then decided to wait. I just remember thinking he was so cute – and I was surprised by how tiny he was.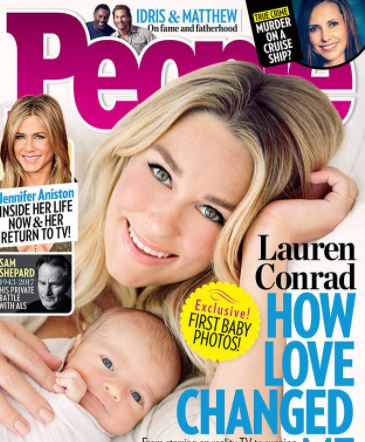 Liam, who weighed 6lbs 14 oz, surprised his mum, with Lauren saying: "I was convinced I was having a giant baby, to the point where I didn't even buy newborn clothes – in my head he was 9 lbs."
Reflecting on her pregnancy, the former Hills star explained that she was eager to find out the sex of her child prior to his arrival.
"I don't really love surprises. I like to have all the information. And I was sharing my body with someone so I wanted to know as much as possible about him."
"I always hoped I would have a boy. Boys are so fun. I was a tomboy, and I always play best with boys. When we found out, I was so excited."
Recently, Lauren's former co-star, Audrina Patridge, revealed that she would be up for a Hills reunion, saying: "We're all married, we all have kids, we're all at a different place in our lives so we'd all be able to relate to each other way more."
And it's been just days since Whitney Port welcomed her own baby boy with husband Tim Rosenman, so with the right amount of encouragement, Whitney might get in on the action.
Something tell us Lauren would run a mile espcially if Speidi got wind of it…