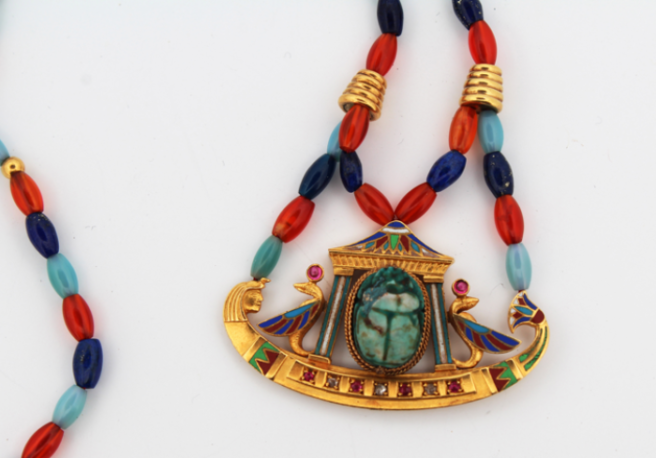 Egyptian Revival jewellery set to feature at Timeless Antique Fair
If you're a lover of antiques and jewellery, then you're not going to want to miss this Antique Fair.
A collection of Egyptian Revival jewellery is set to feature at Timeless, the Irish Antique Dealers' Fair, which is running in Dublin's RDS from September 15-17.
This collection of stunning pieces was created following the discovery of the tomb of Tutankhamun and is really impressive to witness in-person.
Timeless, Ireland's largest selection of classic pieces that stand the test of time, will include a fascinating blend of contemporary and antique-focused exhibitors.
This antique fair is an opportunity for all ages and tastes to explore and discover stunning once-off, yet affordable, pieces that appeal to them.
The collection of jewellery, curated by Garret Weldon of JW Weldon Jewellers, are attributed to a revival of Egyptian-inspired style in the late 1920's as a result of the discovery of the tomb of pharaoh Tutankhamun.
The unusual collection includes a Deluret ring, a brooch depicting the goddess Isis, a necklace featuring a scarab, a bangle showing two snakes kissing, and a bracelet charm with a sarcophagus and removable mummy.
Speaking about the unique and rare collection, Garret revealed, "Throughout history you find revivals of Egyptian style, most notably the 1860s and late 1920s, in this case the revival was sparked by Howard Carter's discovery of the largely intact tomb of King Tutankhamen".
"It is extremely rare to come across these pieces, and I have never had a collection like this. They are exceptional pieces, and each, in its own right, is a masterpiece".
"There is scarcity, there is condition, there is artistry, and there is execution, and they are all seen in these pieces. The fact that they aren't stripped and peeled in any way is amazing".
A highlight from the incredible collection is the scarab necklace. In perfect condition and truly exceptional enamel, this necklace comprises of lapis lazuli, glass and sardonyx beads, set with ruby, diamonds and gold. The piece is priced at €16,500.
When discussing the remarkable necklace, Garret explained, "This necklace is very similar to a piece I saw in an Egyptian museum in Turin, and for me, this is a work of art. It has such vibrant colour, and is as good as you'd ever see in Egypt".
The ring from the collection is made in lapis lazuli and gold. The piece is from Deluret, who is an incredibly rare maker, and is priced at €11,500. The one-off piece is in impeccable condition and gold work quality, with a beautifully and intricately carved peacock headdress. It is strongly inspired by pieces in museums and what was seen and brought back at the time in terms of styles, colours, and enamellings.
The brooch, which features Isis with her wings wide, is unsigned but likely came from Galliano. Made from gold and sardonyx, it is priced at €12,950.
Garret says, "Each piece is unique and the real joy of Timeless is discovering that something different, the one magical piece that makes a home.The best of the past is also best for the future, as our trade is the original sustainable industry and helps the planet through a reduction in manufacturing and waste".
"At Timeless it is all about love. Antique dealers love what they do, and they want you to have something you love too. And, from a customer's perspective, there is nothing like seeing collections in person to really seek out that perfect treasure – the statement piece or the stunning gift".
Art lovers will also be catered for with some of the country's top galleries in attendance at the Antique Fair.
For more information, see timelessfair.ie.