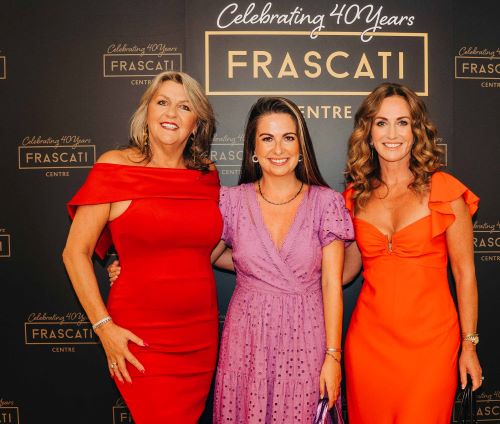 Dublin's Frascati Centre throws a star-studded party to celebrate 40 years
In 1983, the shopping hotspot began life as Roches Stores, a classic department store and household name, offering drapery, homewares and a popular café.
The Frascati Centre quickly become a landmark for south Dublin shoppers and was redeveloped numerous times in the past forty years. The current magnificent, contemporary centre, which has been extensively modernised and extended in the last five years, now offers over 170k sq. ft of retail accommodation, and has an annual shopper footfall of around three million people.
Now home to over 40 stores and services, largely Irish-owned, many of the original staff, whose first job was in Roches Stores in the 1980s, are still happily working or shopping at Frascati.
Frascati Family Party
Last weekend, Dublin's Frascati Centre celebrated its four-decade milestone with a festival featuring music, entertainment, giveaways, food and drink tastings and a massive prize draw.
Throughout Saturday, September 9th and Sunday, September 10th, children delighted in rhyme-time, glitter tattoos, face-painting, science and magic shows, music and dance sessions and balloon modeling. The little ones also had the chance to meet their TV favorites, Percy Pig and Barney.
Renowned West-end singing superstar Rebecca Storm was among the celebrities who participated in the stylish Centre's Ruby Anniversary celebrations.
New store offerings, Irish-owned HomeStore+More and the GNC health and wellbeing store, ensure local home-owners have supremely organised kitchens, bathrooms and lifestyles, with fabulous affordable great quality ranges.
Prizes Galore
After the event, GNC had offered a free Spin the Wheel prize giveaway stand, distributing hundreds of fantastic freebies and allowing visitors to sample its various brands at the mall.
Anniversary shoppers at Frascati automatically had the opportunity to participate in the Centre's Grand Prize Draw for 100 valuable prizes. Entry was available within the Centre, with 50,000 tickets distributed to customers making purchases from Thursday, September 7th, to Sunday, September 10th. The winning tickets were drawn on Sunday evening, and the list of 100 lucky winners was posted on the Frascati website.
High-End Living and Hi-Style
Blackrock's Frascati Centre is the city's first large retail centre to develop its rooftop into prestigious own-door residential units, with 45 spacious apartments providing stylish, high-end living, and more homes to be developed in 2024.
Investment firm Invesco bought and redeveloped the landmark retail space and its surrounding seven acres of land from the Roche family in 2015. The upmarket re-design, upgrade and rebrand of Frascati Centre commenced in 2018.
The redevelopment resulted in a beautifully designed destination, where shoppers enjoy the best of Irish and international retail therapy, that can also be combined with head-to-toe health, hair, body, dental and beauty treatments, all under one roof.
Food retail is well served by Aldi and M&S, while cafes and restaurants offer premium fast-food, brilliant coffee, honest Irish cooking, delicious ethnic food, and elegant cheese and wines.
Fashion and footwear stores at Frascati are long established, successful family-run business, all started by the trailblazers of the Irish fashion industry.
Latest additions include Swan Clothing for men, Trespass for outdoor apparel, and Lorraine Keane's sustainable Fashion Relief pre-loved fashion boutique, partnered with Breast Cancer Ireland. Fashion Relief is a treasure trove for lovers of designer labels, who visit weekly to catch the interesting pieces as they drop.
Sign of the Times!
Amazingly some of today's top Frascati Centre retailers and their products were barely dreamt of when the Centre first opened in the 1980s.
Hi-tech gadgets like smartphones, laptops, designer coffee machines, bread makers, cross-fit trainers, and nutrient-enriched bottled water did not feature in Frascati's line-up back then.
And anything on-line meant it had just been washed; in the twin-tub!
Forty years ago, music chart toppers included Bucks Fizz, Abba, Dexy's Midnight Runners, Madness, Michael Jackson and Paul McCartney.
"Music, fashion and technology may have changed, but the welcome in South Dublin's family-friendly Frascati Centre remains the same", says Viv Gaine, the Centre Director.
"Fabulous fashion and accessories, the finest foods, and high-quality health and homewares has always been the hallmark of Frascati Centre shopping, and that has not changed. Frascati is still very much the Centre of choice for South Dubliners."
Stars were out in force
Centre Director Viv Gaine welcomed guests to celebrate 40 years of the Frascati Centre in the heart of Blackrock, Co. Dublin.
Fabulous food was served to attending guests from the amazing choice of restaurants in Frascati, including Camile Thai, Musashi, Thindi, ICIAR French Cheese and Wine Bar, Natural Bakery.
Drinks were also in plenty supply from the M&S Sparkling Bar, Aldi Specially Selected wines and beers.
For those who couldn't attend the event and were experiencing FOMO, the uber-stylish Frascati will continue to offer a month of centre-wide promotions and fun activities throughout September. More details could be found on the website, www.frascaticentre.ie, and the Centre's social media channels.
Main feature image: Centre Director Viv Gaine, Emily O'Donnell and Lorraine Keane