Dublin City Council's Bram Stoker Festival returns this weekend with a spooky extravaganza
Now a firm Dublin City Council Bram Stoker Festival favourite, Stokerland (recommended for all ages), the free annual pop-up Victorian fun park, opens its Gothic Gates for families and the eternally young for three days in St. Patrick's Park. Since 1904, families and children have enjoyed fun and games in this stunning park beneath the shadow of one of the city's most-beautiful cathedrals, and our Gothic gathering of fun and games continues this Victorian-era tradition! Each day at Stokerland is different, with all sorts of activities taking place across the park. This year, there'll be a delicious mix of storytelling and draw-alongs, bands, discos and dance parties, street theatre & walkabout performers, art workshops, spooky science shows, magic shows and circus workshops.
On Monday 30 October, from 11am – 1pm,the festival will host a Relaxed Session of Stokerland in St Patrick's Park. The programming at this session has been designed to welcome families who will benefit from a more relaxed environment, including families with members who identify as neurodiverse, are on the autistic spectrum, with sensory and communication disorders, ADHD, ADD, tourettes or with learning disabilities. More information on this session is available on the festival website.
Sure to set Dublin's pulse racing with excitement is the return of world-renowned pioneers of imagination, Macnas (recommended for all ages) to the streets of Dublin for the first time since 2018. Their brand-new Hallowe'en Parade, Cnámha La Loba, will welcome Dubliners and visitors for an utterly astonishing spectacle on Monday 30th October, the eve of Hallowe'en. Cnámha La Loba will premiere in Galway City on Sunday 29 October.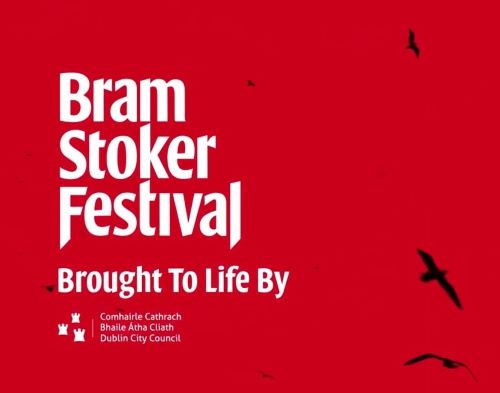 Raidió na Life: Súmairí agus na Neamhmhairbh (recommended for children aged 12+), is presented in partnership with Raidió Na Life, a live podcast as Gaeilge with readings from the Irish language version of Dracula with special guests and dark musical interludes at the Palatine Room in the National Museum of Ireland, Collins Barracks.
Tours are eternally popular with the festival's loyal fans and there's no shortage this year. At Time To Vote, Warmbloods: Vampires Question Modern Art (recommended for children aged 12+), two of Dublin's most-genteel vampires, Winnifred and Anne, are trying to come to terms with modern art. Can they, as old things themselves, accept modern paintings? Are they dusty enough? Are they as nice as their old favourites? On this comedy tour of the National Gallery of Ireland, they'll enlist the help of attendees in finally answering their age-old question – Do Vampires Like Modern Art?. This tour is performed and written by Underthings (Debbie Cheevers and Denny MacDermott) an improv/sketch duo from Dublin who specialise in dark, domestic comedy and hard stares.
Dubliners and visitors to the city alike are invited to explore Stoker's alma mater Trinity College at Trinity Trails Bram Stoker Tour (recommended for all ages). This tour of the campus will explore the legacy of its literary giants and walk in the footsteps of literary giants like Stoker, Jonathan Swift, Samuel Beckett, and Sally Rooney.
The National Museum of Ireland, Collins Barracks will host two free events over the weekend. A World Full of Miseries, and Woes, and Troubles': Life, Disease and Death in Collins Barracks (recommended for children aged 12+) is a free tour with Museum guides discovering the chills, ills, and kills in Collins Barracks 300-year long history. Find out about the trials and tribulations of life as a soldier living in the Barracks from the 1700s until the late 1900s, with a focus on (ill-) health, as well as the transition from one of Europe's oldest occupied Barracks into one of Ireland's National Museums. At Hands-on History: Malady, Mourning and Mystery (recommended for all ages), museum educators will facilitate an interactive session with objects from the Museum's handling collection that reflect a history of life, disease and death. Move out of the sun and into the Museum to learn all about how people fought illness and mourned losses in the Victorian era.
For over three centuries, Ireland's oldest public library has stood in Saint Patrick's Close on the edge of the Cathedral graveyard, which for early readers provided the only path to its door. At Spooky Stories at Marsh's Library (recommended for all ages), guests are invited to wander the darkened galleries where books of witchcraft, martyrdom and heresy are to be found. Prepare to be enthralled as the library's knowledgeable staff recount spine-tingling anecdotes from its intriguing past in a setting almost entirely unchanged since Stoker's visit.
To book tickets and find out more, sink your teeth into www.bramstokerfestival.com.