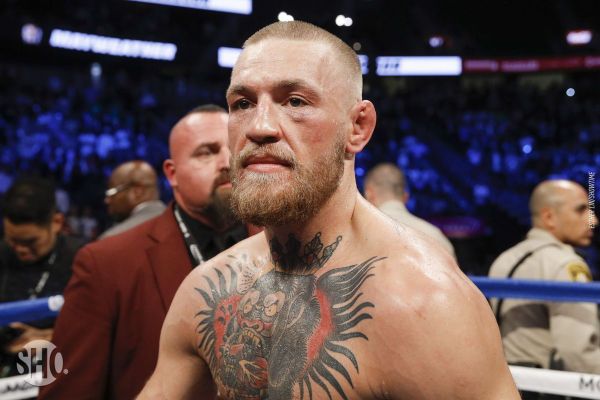 Conor McGregor wants a rematch with Khabib after attack
The Notorious has broken his silence in the wake of violent and ugly scenes in La Vegas after he was defeated by Khabib Nurmagomedov.
Conor went head to head with the Russian lightweight champion at UFC 229, with Khabib coming out victorious.
However after the fight, Khabib's pals launched an attack on Conor that resulted in violent scenes.
Now Conor has announced that he's set for a rematch, tweeting, ''good knock. Looking forward to the rematch."
His coach John Kavanagh showed his support by retweeting the message and saying, 'another historical night. Amazing atmosphere, technical fight with excitement all the way thru. Shame about the ending. On to the next one."
Good knock. Looking forward to the rematch.

— Conor McGregor (@TheNotoriousMMA) October 7, 2018
Khabib has offered his apologies for his part in instigating the fight following his defeat of Conor.
He said, ''first of all I want to say sorry to Nevada Athletic Commission and second to Vegas. I know this is not my best side. I'm a human being.''
He continued, ''this is a respectful sport, not a trash-talking sport. I want to change the game, you cannot talk about religion, about nationality."
After this massive UFC event ended in tears and UFC President Dana White was just as shocked and appalled by what went down as we were.
He revealed that Khabib's paycheck was being withheld by the Nevada State Athletic Commission and that three potential members of the fighter's team had been arrested.
"He talk about my religion."
"He talk about my country."
"He talk about my father."

"Why people talk about I jump over the cage?"

Khabib shares his view after the ugly scenes at UFC 229. pic.twitter.com/YMKU2PSSEg

— UFC on BT Sport (@btsportufc) October 7, 201
Dana would not confirm if Khabib would hold on to his 155lb crown.
He said, ''it's not 100% certain. We're regulated by the Nevada State Athletic Commission. They're going to go after Khabib. The governor was here and he ran out of the building.''
Let's all watch this space…