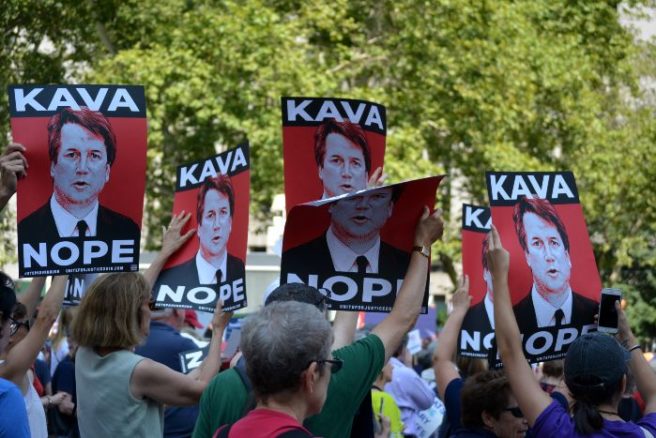 BrettKavanaugh.com is now a resource for sexual assault victims
Brett Kavanaugh has been the catalyst for a global discussion around sexual assault.
Despite allegations of sexual assault made against him by three separate individuals, Kavaunagh now serves as Associate Justice of the Supreme Court of the United States.
Since his first day in office, the website BrettKavanaugh.com has been turned into a resource for survivors of rape and sexual assault.
Statement on why we bought https://t.co/yw4FV1MVST and how we're using the URL on the justice's first day at the new office https://t.co/Yo8aL7OuBI

— Fix the Court (@FixTheCourt) October 9, 2018
'The start of Brett Kavanaugh's tenure on the Supreme Court may look like a victory for one interest group or another. But, more importantly, it is putting a national focus on the issue of sexual assault – and how we as a country can and should do more to prevent it and to support those who have experienced it,' reads the site.
'This past month, thousands of survivors came forward to tell their stories.'
'We applaud your bravery. We believe you. And if you are seeking additional resources, these groups can offer assistance.'
The website gives access to the National Sexual Violence Resource Centre and the Rape, Abuse and Incest National Network, as well as the End Rape On Campus project.
The site was launched by Fix The Court, a grassroots organisation created to lobby for Supreme Court reforms.
'Three years ago, I bought a handful of URLs that I thought might be useful in any forthcoming Supreme Court confirmation battles. Included were BrettKavanaugh.com, .org and .net,' said Fix The Court executive director Gabe Roth.
'Today I am redirecting those three to a landing page with resources for victims of sexual assault. I believe Dr. Ford. I believe Prof. Hill. I also believe that asking for forgiveness is a sign of maturity and strength, not weakness.'
'Watching last night's White House event and listening to the President again cast doubt on veracity of Dr. Ford's claims, while not hearing a word of contrition from the newest justice, was difficult for many Americans who have experienced sexual misconduct firsthand. Fix the Court stands with you. We believe you, and we support you. And if you seek additional resources, you can go to BrettKavanaugh.com.'