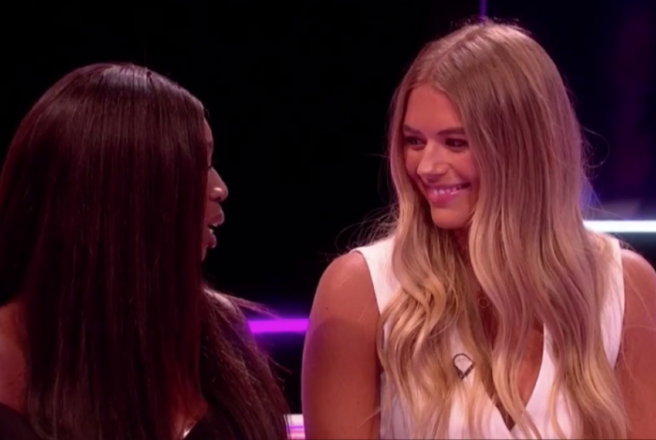 Arabella broke Love Island rules by telling Amy the public hated her
Some things should straight up never be said to another woman, and that includes telling her that the public dislike her.
Arabella, have you heard of girl code? The model apparently broke Love Island rules by confessing to Amy Hart exactly what the outside world thought of her.
Arabella Chi was brought into the villa to stir things up, but she took things a step too far by discussing the public's opinions with poor Amy.
The air hostess quit the show in a shock exit after having her heart broken by 'half-boyfriend' Curtis Pritchard, and said she was told about the public's views of her despite it being against the rules.
Amy told OK! magazine: "They gave their perspective. They weren't supposed to and they got told off for it.
"Arabella led me to believe that I was absolutely hated, and I may have been at the time, so I feel so lucky to have come out to so much support," she continued.
Considering her mental health was at a low point at that stage in the villa, why on earth would Arabella have done that to Amy?
"We will have the best friendship you've ever seen in your life." Amy telling Curtis she's leaving the villa has got us in FLOODS. #LoveIsland pic.twitter.com/zzp4B1Q6rf

— Love Island (@LoveIsland) July 9, 2019
"If I'd come out when I was getting death threats, I don't know how I would have coped," the 26-year-old added.
Amy was made aware of the death threats during her press debrief after she vacated the villa of her own volition.
She said: "My little brother struggled with the trolling and my family were stressed. I was devastated and I think they were devastated watching me."
Amy appeared on Loose Women and disproved claims that the show was fake this morning.
Some audiences believed that Amy's goodbye speech was written for her by the producers.
Amy said: "A lot of people have said, I've read everywhere, that it was written by someone else, but it wasn't because if you watch the one by the fire pit, I lose it half way through and run out of things to say."
Amy claimed that her phone "went mad" when her exit was aired and she finally got it back following two days in hiding.
She also told the panel that "6ft tall men" have confessed to her in the street that her speech led them to tears.
Amy telling the Islanders she's leaving… Just don't blame us if you start crying on your commute. #LoveIsland pic.twitter.com/6lbcx8sadM

— Love Island (@LoveIsland) July 10, 2019
"I would not change anything, I'd do it all again tomorrow and taking myself out of that situation has made all the bad things go away and I only have fond memories of the villa."
Amy also said that herself and Curtis had spent 724 hours together in the villa before his head was turned by Jourdan Riane while Amy left for Casa Amor, so their connection remained strong.
Feature image: ITV2/Aftersun