University graduate introduces RecaptureOne, a heartfelt tribute to cherished memories
RecaptureOne is a unique concept that merges sentimentality and technology, providing family and friends with the opportunity to relive cherished moments via a beautifully engraved memorial plaque featuring a QR code. Alannah Pardy, a university graduate from Kildare, is the creator of this touching and innovative way to preserve and celebrate the memories of loved ones who have passed away.
The story behind Recapture One is one that is deeply personal and poignant to Alannah and her family. Her inspiration stems from her own experience of loss, in the passing of her beloved auntie Michelle in 2004. Growing up and witnessing the grief her family endured and the longing to know more about her auntie's life led Alannah to embark on a mission to create a lasting tribute.
Alannah collected photos and videos, piecing together a comprehensive narrative that celebrated Michelle's life, personality, and essence. The result was a captivating video story that captured not just moments, but emotions and connections. This deeply moving experience sparked the inception of RecaptureOne.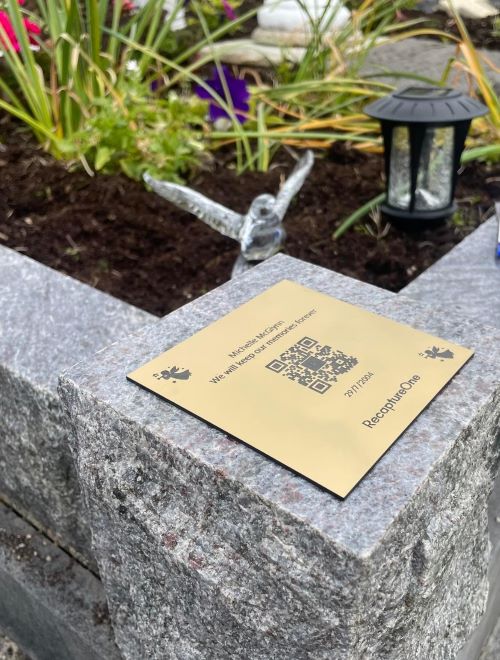 RecaptureOne took its first steps towards reality when Alannah introduced her creation to her family during their annual visits to Michelle's graveside. By scanning the QR code on the RecaptureOne plaque, Alannah's family was instantly transported to a world of memories, laughter, and shared experiences. What was once a time of sadness and grief transformed into a celebration of Michelle's life, allowing the family to come together, share stories, and embrace the joy of her presence.
Alannah's vision didn't stop with her own family. Recognising the potential for RecaptureOne to bring solace and comfort to countless others, she embarked on a journey to share her creation with the world. With unwavering determination and the support of Enterprise Ireland, she secured the prestigious Grant Thornton Award in 2022, which enabled her to kickstart her website and business operations. This milestone achievement was a testament to her exceptional ideas and dedication. Winning the award at the tender age of 22 not only solidified her status as a business owner in her own right but also it also validated her vision.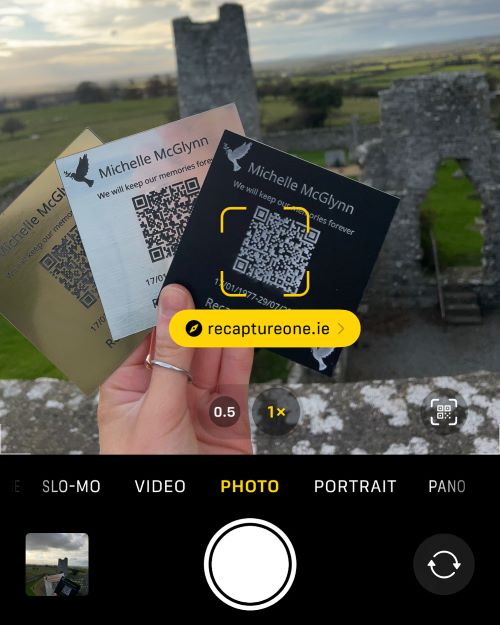 Alannah said: "RecaptureOne isn't just a product to me, it's a heartfelt tribute and a bridge to special memories – a way to celebrate the enduring essence of our loved ones. With every plaque, I aim to offer comfort, peace, and the gift of remembrance. I have already made plans for a product that will reflect the memories of animals because for many people their pets, be it a dog or a gerbil, are members of the family in many households."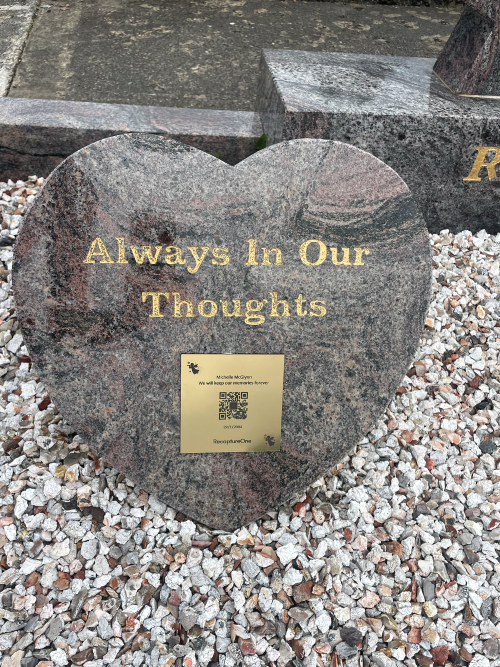 RecaptureOne plaque is designed to honour the memory of a cherished individual, preserving their precious moments for generations to come. Made from weatherproof and sturdy perspex, this plaque is both resilient and enduring. Its discreet, high-quality design seamlessly integrates with gravestones, urns, or memorial sites, ensuring a subtle yet meaningful tribute.
For more information on RecaptureOne see www.recaptureone.ie.