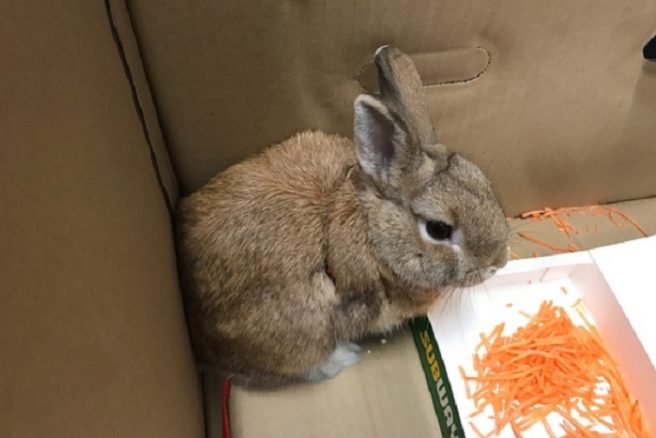 A RABBIT just shut down a whole airport and we can't deal
Less of a terrorist threat and more of terribly cute overload.
So yesterday, Adelaide airport in southern Australia, nearly got shut down yesterday due to a bomb scare.
Police where alerted that there was an abandoned bag in the airport's toilets and immediately sent a bomb squad in. It was all very dramatic.
They approached the bag with carefully-trained caution, until the bag started moving…. it was a rabbit.
A very well-behaved rabbit at that. Inside the pink Lorna Jane bag, the male rabbit was wearing a red harness, but had no other ID on him. Most have left it in his other hutch.
"We had a hutch something might be a bit bunny when the bag started moving. Turns out there was no cause fur alarm, as inside was an extremely cute but wascaly wabbit," the APF wrote on their pun-filled Facebook page.
"Don't worry, be hoppy, the bunny is in the safe care of RSPCA South Australia and is no worse fur wear. He doesn't seem to carrot all about all the fuss. Lettuce hop someone can help find out who abandoned him at the hareport."
Give whoever wrote that post a promotion please.
Police then alerted the RSPCA, who picked him up and kept him over night in a lovely warm cage. According to the RSPCA, the bunny bandit was unharmed.
"This is the first job of this kind that I've come across in my 26 years of service with the RSPCA," rescue officer Nalika Van Loenen told ABC. "The young male rabbit is clearly very-well socialised and cared for."
While waiting for the RSPCA arrived, thr police put the roaming rabbit in a box and got him some shredded carrot from Subway.
"We treat everything in the aviation space very seriously, but our bomb appraisal officers certainly weren't expecting to find a rabbit in unattended baggage," Commander McCann, police manager, said. "Thankfully, the rabbit is safe and well and hopefully the owner will be found."
Van Loenan explained that the rabbit may have been abandoned due to a number of reasons.
"A couple of scenarios came to mind — his owner could have been leaving the country and knew by leaving their pet in a populated area he would be found and cared for," she said. "Or they may have been planning on smuggling him on board a plane, but backed out at the last minute.
While the RSPCA are still on the hunt for the owners, they are "hoptimistic" about Rodger Rabbit's future.