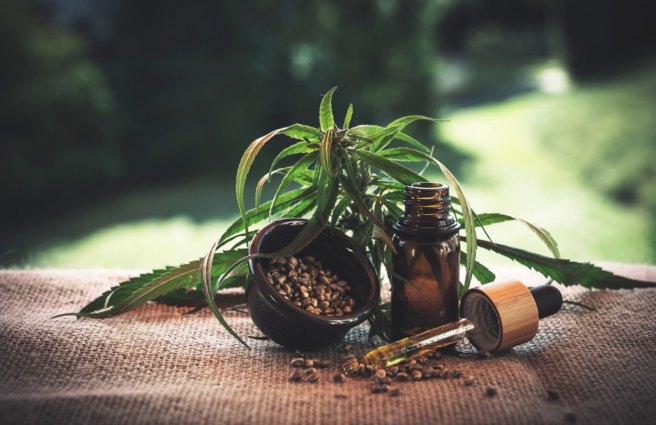 A complete guide to CBD topicals for pain relief
CBD is one of the most talked-about health and wellness products nowadays. The buzz around it will only continue to grow as it's increasingly legalized across the globe. People are using it for a variety of reasons and, by 2022, the global CBD market is expected to hit the $1.8 billion mark.
As an anti-inflammatory to an anti-anxiety treatment, it seems as if there's nothing CBD can't fix. Research suggests that CBD has a wide array of health benefits, with one significant area being its ability to provide pain relief.
With the increase in demand, CBD availability and supply are bound to explode, too. Today, CBD is available in multiple forms, including gummy candies, tinctures, creams, and body oils, and it can be difficult determining which topical you should choose for pain relief purposes.
So, to make the process easier here's what you need to know.
What is CBD?
CBD stands for cannabidiol and is a compound found in the cannabis plant. Unlike THC, another compound found in the plant, CBD doesn't result in a high since it's not psychoactive.
CBD is found in hemp and marijuana plants, and when extracted from hemp, it can contain minimal amounts of THC. Naturally, CBD derived from the marijuana plant may contain more THC.
How does CBD provide pain relief?
Our bodies have an endogenous cannabinoid system which means we have cannabinoid receptors through our tissue and organs. These receptors are tiny minute proteins attached to your cells and receive chemical signals from various stimuli and allow your cells to respond. They're also present in your brain, lungs, and skin and, due to this, marijuana typically makes you drowsy and feel hungry.
When your cells respond with CBD, they create pain-relieving and anti-inflammatory effects to help manage pain. Due to this, CBD's topicals can help people suffering from chronic pain, such as back pain, migraine, and arthritis.
It's important to note that CBD isn't a substitute for your current medication. It can complement your current treatment, but it can't replace it. You must consult your doctor before trying CBD. Together, you can determine whether CBD is right for you and whether you should consider it as a treatment for your pain. During this time, it's critical to keep track of your symptoms and dosage.
Types of CBD Topicals
Now that you know how CBD works for pain relief let's highlight which topicals are available for this purpose.
Ointments and Salves
Ointments and salves are typically created with waxes and oils to form a semi-solid substance. This formula doesn't absorb into your skin as quickly, so it sits on your skin longer and, therefore, has longer-lasting effects.
CBD salve for pain is an excellent option if you're looking for extended relief. Most of the time, they also contain other essential oils with pain-relieving properties that enhance the overall effect. All you need to do is apply a small amount to the target area and rub it in as much as you can. The effects can last up to 6 hours.
Lotions and Creams
Lotions and creams contain water and oil and are formulated to protect your skin from moisture loss and hydrate it. Most CBD lotions and creams contain other ingredients to provide pain relief and skin-soothing benefits at the same time. It's essential to go through the ingredients to ensure you're selecting the best product for your skin type.
CBD creams and lotions are an excellent option for everyday use since they work as moisturizers and provide inflammation reduction and pain relief benefits simultaneously. These effects typically last between 4 to 6 hours.
How to Shop for CBD Topicals
CBD is still a relatively new product, and the market is highly unregulated. Independent testing presents its own issues, such as lack of quality control and mislabeling. You can also experience other problems, such as misrepresentation of the strength of CBD, contamination with metals, solvents, and pesticides, and the presence of THC.
Due to this, it's vital to make an informed decision and perform due diligence from your end. It would be a good idea to opt for local products with ingredients grown domestically. These products should ideally be manufactured by companies with good manufacturing practices as laid down by the FDA for dietary supplements or pharmaceuticals.
Moreover, it would be best if you bought from a company that tests each batch and provides a certificate of analysis (COA) from an independent lab that uses valid standardized testing methods approved by relevant bodies. Note that people selling you the product in stores aren't healthcare professionals and are simply salespeople. It's always better to keep your doctor in the loop, so you don't end up risking your health with an unregulated product.
What are the Risks?
Formulations will vary from product to product which is why you'll need to perform trial and error to determine which one works best for your painful muscles and joints. The good thing is that CBD topicals generally have low risk and can potentially result in significant benefits.
Be mindful of any allergic reactions that may occur, though, especially if your skin is sensitive. You also shouldn't apply these topical treatments if you have a skin condition like psoriasis or on open wounds.
CBD is an excellent option to consider if you've been experiencing chronic pain. With various formulations and types of topicals to choose from, you're bound to find something that suits your needs.
Using CBD for pain relief will require some research, just like any other treatment. Consult your doctor to figure out what's best for you and clarify any questions you may have about the ingredients in a specific product. CBD is generally a safe, natural product, so it's definitely worth looking into for pain relief.