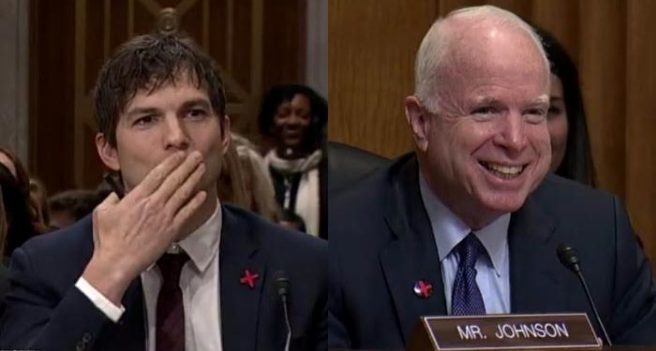 With Obama & Biden gone, we're all over Ashton & McCain's bromance
Barack Obama and Joe Biden literally delighted us all with their bromance in the White House.
Obama: "Joe, why are you still holding my hand?"
Biden: "I wanna freak Mike Pence out"
Obama: "But why?"
Biden: "Just roll with it" pic.twitter.com/o5KZZ0Ysgz

— thomas a moore (@Thomas_A_Moore) November 12, 2016
They just always seemed to have each other's backs and had the best craic ever together.
"Not only a war hero but a hero to his issue, John McCain." -Ashton Kutcher. This is a love fest and it's amazing.

— Alex Gangitano (@AlexGangitano) February 15, 2017
However, when they left the White House, we thought we'd be left with a bromance-shaped hole forever.
But alas, good ol' Ashton Kutcher is here to save the day.
Ashton was in the US senate today to talk about human trafficking and modern-day slavery, and while he as there, he had a little joke with John McCain and they also shared an air-kiss.
WATCH: Ashton Kutcher and McCain get cozy during a senate hearing. Kutcher blows a kiss to McCain. pic.twitter.com/al5T0j2m6E

— Deplorable Vet (@KGBVeteran) February 15, 2017
Lads, a new bromance has been born.