We already have a frontrunner for the 2020 election – it's Kanye West
Remember last year's VMAs, when we all had a LOL over the very thought of Kanye running for US President in 2020? Well, bets are already being taken – and plenty of people are hedging theirs on a certain rapper being one of the candidates!
Yep, the very fact that Donald Trump now bears the title of 'Leader of the Free World' has driven the internet to believe that truly ANYTHING can happen – including a President West.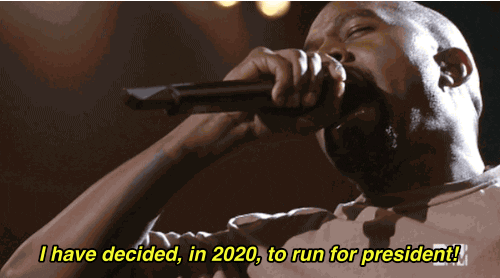 Twitter has been awash with enthusiastic tweets in Kanye's favour, with many believing his outspoken and unapologetic attitude is exactly what the US needs in a leader.
"Kanye West for President in 2020! He would make a good president, because he speaks his mind and takes action," wrote one fan.
Others, meanwhile, seem to just be conceding to the idea that the world is a crazy place and reason has gone completely out the window.
I guess this means that Kanye will be the president of US in 2020#trump #USElections #KanyeWest #ElectionDay #GreatAmerica #peopledontcare

— Neja Ribnikar (@NejaLovelyfood) November 9, 2016
i hope I go into a 4 year coma and wake up when Kanye is president in 2020 #AmericaIsOverParty

— william testa (@wtesta0011) November 9, 2016
Kanye running for president doesn't seem so ridiculous anymore #kanye2020

— B (@psychobellz) November 9, 2016
"If Trump was able to become president, then for sure Kanye will win in 2020," tweeted one jaded social media user.
As of now, Kanye has remained tight-lipped, with his romantic birthday tribute to Kim Kardashian still the last tweet up on his account.
No matter what may come, one thing's for certain: Kim would be the MOST controversial FLOTUS, EVER!