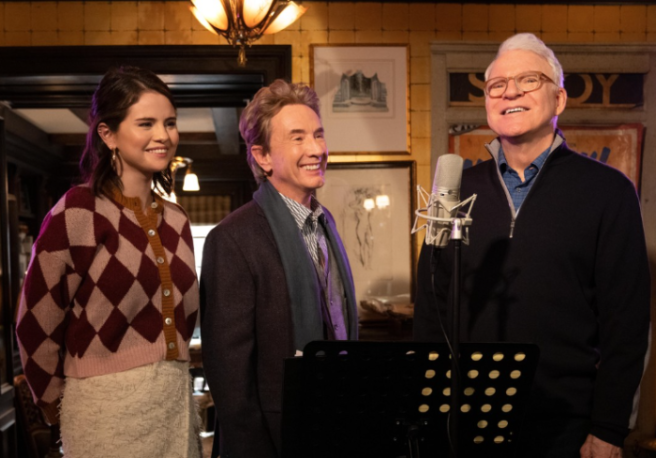 WATCH: First look at Meryl Streep in Only Murders in the Building
Meryl Streep has a new acting gig!
Fans of the iconic Hollywood actress were delighted last night when they received a first glimpse at her new role.
The 73-year-old will be starring in the third season of the hit Disney+ series, Only Murders in the Building. Her casting was first announced in January, when Selena Gomez teased fans with an on-set video introducing the Mamma Mia! actress.
In celebration of the Academy Awards ceremony last night, the team behind the comedy-drama decided to treat fans to an early glimpse into its new season.
The short teaser trailer showcases the series' three main characters – Charles (Steve Martin), Oliver (Martin Short) and Mabel (Selena Gomez) – as they once again prepare to solve a mysterious death through their true crime podcast.
This time, the deceased is Ben Glenroy, Charles' rival co-star, who dies unexpectedly on stage during the opening night of Oliver's new play. Excitingly, the murder victim will be played by Hollywood actor Paul Rudd, a new addition to the already star-studded cast.
The teaser shows our favourite trio buzzing as they realise they have another case to solve.
"Is this really happening again?" Oliver exclaims, as Mabel sarcastically replies, "Well, you know, who are we without a homicide?"
In the short trailer's final moments, Meryl Streep's character is revealed, and it appears as though she is also playing a role in Oliver's play.
"Oh, my God! It's me. Oh, I am so sorry," Meryl's character laughs, seemingly not paying attention to her lines during a script table read.
Hilariously, the social media team behind OMITB decided to pay homage in their caption to Meryl's famous role in The Devil Wears Prada.
"Murders? In the building? Groundbreaking," they joked. "Meryl Streep joins Only Murders in the Building Season 3."
Fans couldn't help but delight in the first look at Meryl's character.
"I'm so happy and excited and psyched for this. MERYL is back," one Twitter user gushed.
"MERYL AND MURDERS IN THE BUILDING!! can't wait for this," another added.
A release date for OMITB season 3 has yet to be announced, as it appears as though it is still in production. However, fans have been promised that the new season will be "coming soon" – and we can't wait!