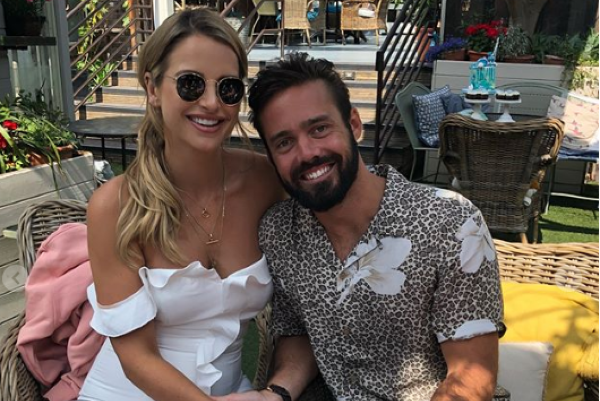 Vogue Williams looked absolutely STUNNING at her baby shower
Vogue Williams and fiancé Spencer Matthews celebrated the impending arrival of their first child.
Hosting a sit-down dinner for family and friends for their baby shower, the model was absolutely glowing.
Dressed in a white dress with her baby bump on show, the 32-year-old took to Instagram to share the event with her fans.
Vogue captioned the selection of snaps:
"Feeling so lucky to have the very best friends and family in the world. @housedublin2 thank you so much for throwing me the best baby shower, food, drinks, staff and decorations were all so amazing. To @ambrerosolero and @saryreg you did a fantastic job getting the whole event organised.
"My beautiful cake was by @onceuponatimecakesireland and so delicious. My dress is from @novo_london is not maternity, just a size up and so comfortable! Going to bed very happy this evening."
The couple are expecting a baby boy.
The mum-to-be accidentally revealed the gender on Brendan O'Connor's Cutting Edge.
During a conversation about fitness during pregnancy, Vogue explained how she is targeted for exercising during her pregnancy:
"If I put a training video up I could have 20 messages saying, 'You shouldn't be doing this. You shouldn't be training like that'.
"It's healthy to train during your pregnancy, particularly for me, because I trained the whole way before [becoming pregnant].
"It's like, I'm not eating for two people. My baby is the size of an Heirloom tomato today – I Googled it! So, like, that is not two people! It's a little tomato," she added.
The host pressed her for a little more information:
"A little tomato… Is it happy in there right now on television?"
.@voguewilliams talks about training during her pregnancy and has she just revealed her baby's gender?! #CuttingEdge is live @rteone now! pic.twitter.com/vH9Tsh3MNt

— Cutting Edge (@CuttingEdgeRTE) April 11, 2018
"He's delighted with himself," the model replied.
"Is he? So it's a boy!" exclaimed Brendan.
Vogue laughing realises her mistake, as the audience begins to applaud.
Congratulations to the happy couple!!