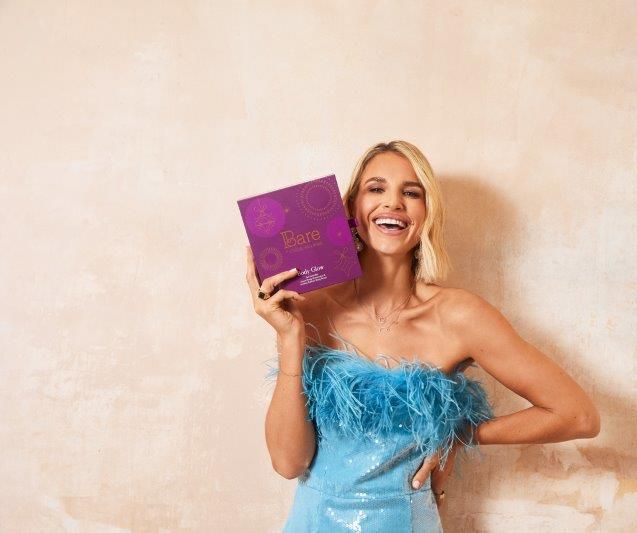 Vogue Williams launches stunning 'Bare by Vogue' Christmas Collection
Bare by Vogue is thrilled to announce that for the second year in a row, it is releasing a Holiday Collection. There is truly something for everyone with this collection of 6 ready-to-gift kits – from your experienced tan-loving bestie, to your novice secret santa, or for the person who just has everything. Have a colourful Christmas and give the gift of a sun-kissed glow with Bare by Vogue's holiday heroes.
ULTIMATE SET (RRP €58 – worth €73)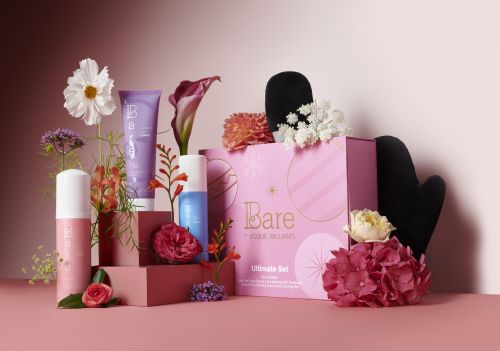 Be glow-ready this holiday season with the Ultimate Gift Set. It is packed with everything you need for a full body routine; from the best selling Self Tan Foam (Dark), to the skin-reviving Face Tanning Mist (Medium). Bare by Vogue's Instant Tan (Dark) offers a silky smooth tan while simultaneously blurring any imperfections. Its wash-off and rainproof formula makes this perfect for last minute festivities! For a long-lasting faux glow, opt for the Self Tan Foam and Face Tanning Mist cult combo. This set also includes the brand new Luxury Tanning Mitt Duo – a full size tanning mitt and mini face mitt – to make application a dream.
BEST SELLERS (RRP €45 – worth €55)
Includes Self Tan Foam (Medium), Face Tanning Mist (Light) & Luxury Tanning Mitt Duo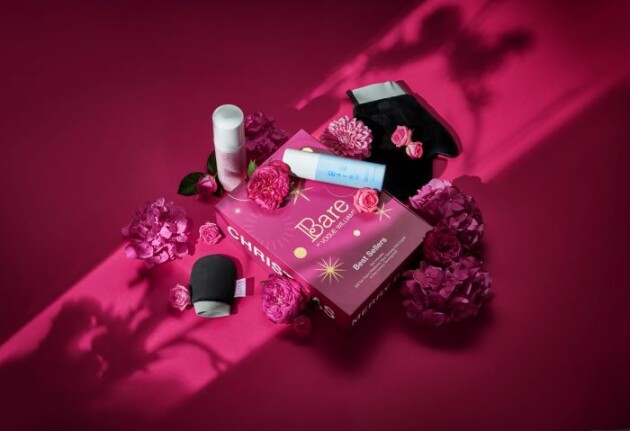 Have a Merry Berry Christmas with the Best Sellers Kit from Bare by Vogue. Ideal for both beginners to tanning and seasoned professionals, the award winning luxuriously rich Self Tan Foam (Medium) boasts some of nature's finest skin-enriching ingredients; Goji Berry, Oatmeal, Chamomile, Pomegranate, and Grapefruit, all contributing to the promotion of skin health and the ultimate glow. Achieve a natural looking facial tan that lasts for days, in just one application with the Face Tanning Mist (Light). The clear, lightweight formula is made with moisturising and firming ingredients for quick-drying, natural looking results. Use the Luxury Tanning Mitt Duo for a smooth, streak-free golden tan from head to toe.
BODY GLOW (RRP €35 – worth €45)
Includes Liquid Body Illuminator and Body Brush in Limited Edition Gold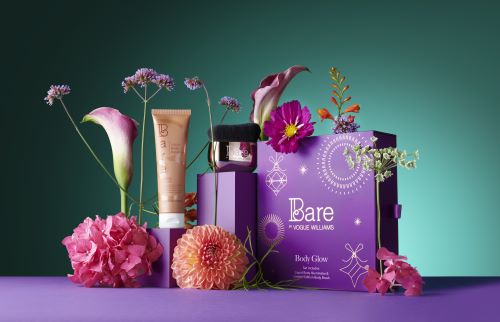 Remain Bronzed & Bright with the Bare by Vogue Body Glow Kit. Elongate and slim parts of the body by highlighting down the centre while shading the edges. The hydrating Liquid Body Illuminator gives a sun-kissed shimmer while reflecting light for the ultimate glowy finish. The water-based formula blends seamlessly into the skin to minimise blemishes, cover imperfections and smooth the skin's appearance for a radiance that is both water and transfer resistant. It is also enriched with amino acids such as Goji Berry and Pomegranate which nourish the skin whilst improving skin tone and texture, as well as Vitamin A & C for radiant, glowing skin and Hyaluronic Acid for added hydration. The angled, limited edition Gold Bare by Vogue Body Brush has ultra-soft bristles to give an even application while gliding over the face and body.
SKIN SAVIOURS (RRP €43 – worth €53)
Includes Face Tanning Serum (Medium) & Self Tan Foam (Dark)
Make your Christmas Wishes come true and treat your skin to some self care with Bare by Vogue William's Skin Saviours combination. Our wonder product, Face Tanning Serum (Medium) has been specifically created with the face in mind and offers the perfect hybrid of a truly efficacious skincare serum, paired with sunless tan, to deliver the ultimate glow. Self-tan and skincare all-in-one! Packed full of skin-boosting ingredients to deeply nourish the complexion, this serum leaves you with a natural-looking, bronzed glow. Saturated with Hyaluronic Acid, Peptide Complex and Vitamin E, this serum draws moisture into the skin, deeply penetrating the pores with intense hydration and also helps to even skin tone and minimise the appearance of pigmentation. For a body tan to complement your bronzed face, the award winning luxuriously rich Self Tan Foam (Dark) is a streak-free winner every time.
FRESH BASE (RRP €42 – worth €52)
Includes Self Tan Foam (Dark), Express Tan Removal Gel & Luxury Exfoliating Mitt
Believe in Magic with the Fresh Base gift set, containing the best-selling Self Tan Foam (Dark) and revolutionary new Express Tan Removal Gel. When you are ready to hit refresh on your tan, Bare by Vogue's Express Tan Removal Gel gently melts away old tan or tanning mishaps in as little as five minutes, without the need for harsh scrubbing. Infused with a delectable fruity scent, its rich hydrating formula is powered by a blend of Aloe Vera and Glycerin to lock in moisture and leave your skin nourished, exfoliated and ready for a new tanning application. Use the Luxury Exfoliating Mitt to lather your skin in the deluxe pink shimmering formula and gently buff away your old tan – revealing the perfect canvas for your dream tan application. Finally, apply the Self Tan Foam to smooth, supple skin and watch the magic happen.
PREP & GLOW (RRP €49 – worth €69) – Online Exclusive
Self Tan Lotion (Dark), Face Tanning Mist (Medium), Self Tan Eraser & Luxury Tanning Mitt
Your perfect tan routine is only a gift set away, with everything you need for a dream full body tanning experience, all contained in the Prep & Glow Gift Set, exclusively available online. Quickly and gently remove your tan using Bare by Vogue's Self Tan Eraser, infused with botanicals Goji Berry, Oatmeal, Chamomile, Pomegranate and Grapefruit. The hydrating formula locks in moisture to prime the skin for your next Bare by Vogue tanning application. With the Luxury Tanning Mitt, effortlessly sweep our bestselling Self Tan Lotion (Dark) across the skin for a radiant, rich tan in 4-6 hours. Bring back the glow to your face with the Face Tanning Mist (Medium), enhance your skin with skin-loving extracts of oatmeal and chamomile, rich in a diverse range of antioxidants and anti-inflammatories that combat harmful free radicals, while soothing redness, blemishes and irritability.
The Bare by Vogue Holiday Collection is available to purchase in pharmacies and retailers nationwide, and the online exclusive at barebyvogue.com and zolobeauty.com.