Valentino Garavani must-have Bags in 2021
Women and handbags are almost inseparable – it's a truth universally known. Sort of. And of course, shopping from luxury brands is a worthy investment, especially on such timeless items that go through intensive craftsmanship during production. As a result, the items are more likely to last a lifetime or even become a precious heirloom for generations to come.
Valentino Garavani handbags have always caught women's attention with their sophistication and uniqueness. It is no surprise that these are the bags of choice for style-conscious consumers. Most encouraging is that the brand stands out among affluent fashion icons, a position not likely to change any time soon.
From the classy top handle to less formal crossbody bags, there is so much to choose from in all seasons. Below is a quick guide of the most popular luxury bags for women designed by the famous Italian Maison – the iconic and unique 4 must-have handbags by Valentino Garavani.
Crossbody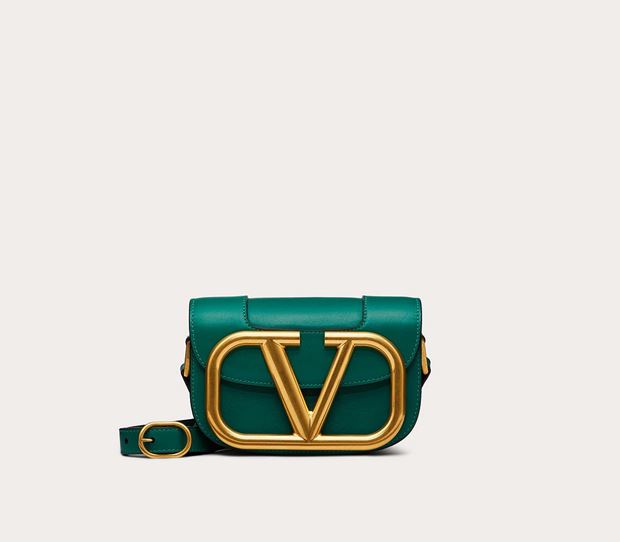 Among the beautiful range of Valentino Garavani handbags, crossbodies are most popular because they are hand-free and easy to carry. A new addition that has taken the industry by storm is the small Valentino Garavani Supervee crossbody. This little bag has a maxi VLogo Signature with a pull-out shoulder strap. Like most Valentino Garavani gear, it has a magnetic closure, interior pocket, and nappa lining. There are no specific rules when carrying a crossbody bag. Since it's a timeless accessory and never out of style, you can pair a crossbody with nearly all the outfits in your closet.
Hobo bags
2021 witnessed a revival of the 90s hobo handbag designs. The revived designs have an enhanced touch of chic and contemporary, which is pretty impressive. The perfect example of this is the eye-catching small Atelier Valentino Garavani 03 Rose Edition nappa hobo bag – the design is exemplified with 3D leather petals, and it also has a magnetic closure, zip pocket, and nappa lining.
Such an extemporary finish makes it ideal for laid-back events or a woman who prefers to keep it low. Pairing your hobo bag with a matching oversized blazer, distressed jeans, or other casual outfits, for a casual but glamorous look.
Clutches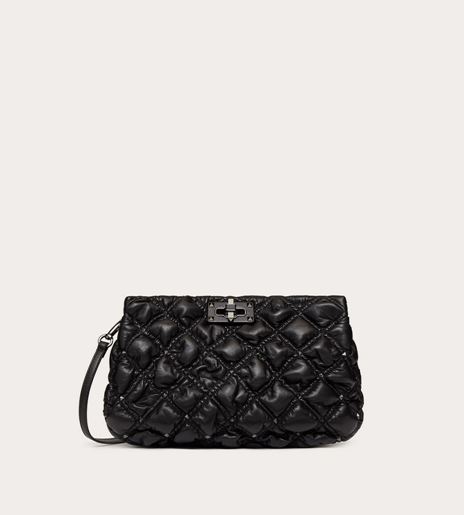 A clutch may not be your daily option, but it makes the perfect accessory – and the Valentino Garavani SpikeMe clutch is a beautiful example of how a practical clutch should look. First, the rhombus pattern little bag with the eye-catching studs is a sight to behold. Moreover, the tone-on-tone stitching, platinum finish, and twist-lock feature make it one of the most preferred clutch options.
The best way to dress a clutch is by pairing it with a casual outfit like jeans and sneakers. Likewise, you can also match with your shoes to add glitz to your outfit. In short, a clutch bag is an easy accessory for casual and fun-filled occasions.
Top handle
From the first glance, a top handle bag oozes elegance and class, and there is none more elegant than the Valentino Garavani Roman Stud handle bag in nappa. This new arrival has a vintage-inspired design with antique brass finish metal studs. Most striking is how soft it is, and it has a removable chain strap/leather strap that you can adjust allowing you to wear the bag as a crossbody or carry it in your hand. Akin to a Valentino Garavani SpikeMe clutch, the Valentino Garavani Roman Stud has a rhombus pattern perfected with tone-on-tone stitching. Above all, it has a protective feeting which makes it perfect for those lunch or dinners dates.
The top handle bag works tremendously well dressed-up – so pair it with equally elegant outfits with lace or wool. To add more oomph, wrap a colorful silk scarf around the handles.