TOWIE's Amy Childs addresses new speculations about her twins
Amy Childs has shared an update with her fans after some followers were speculating on whether or not she's given birth to her twins.
The Only Way is Essex star revealed she is at the 36 week mark in her pregnancy and took to Instagram to update her fans after she mentioned she was going into hospital for a check-up yesterday.
Amy spoke on her Instagram Stories to say, "Me and Bill are just on the way to the hospital. It's our 36 weeks hospital appointment today and basically it's like D-day".
"We're going to know how they're laying, if I've got to have a C-section, which I think that is the case".
"I will let you know after, how my scan and antenatal are", Childs added before asking her fans, "When did you have your twins?".
Amy ended up not letting her 791K Instagram followers know how she got on which made many believe she had gone into labour.
Taking to Instagram this afternoon, the reality TV star shared an update that her fans have been waiting for.
Posting a picture on a blank screen, Amy wrote, "Sorry guys, everyone messaging me about my scan yesterday!!".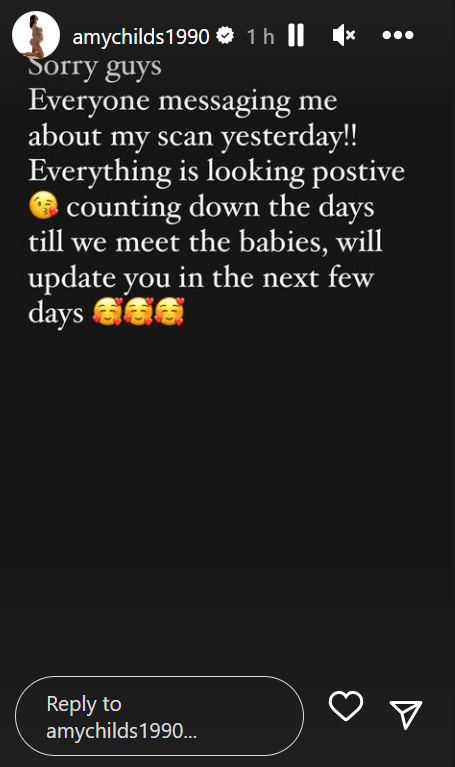 "Everything is looking positive. Counting down the days till we meet the babies, will update you in the next few days".
The 32-year-old added, "And to all my followers no I haven't had the twins", followed by laughing emojis.
Amy announced she was expecting twins in October of last year and revealed she was having a boy and girl in November.
Amy is already mum to five-year-old Polly and four-year-old Ritchie from previous relationships, while Billy is becoming a first-time dad.