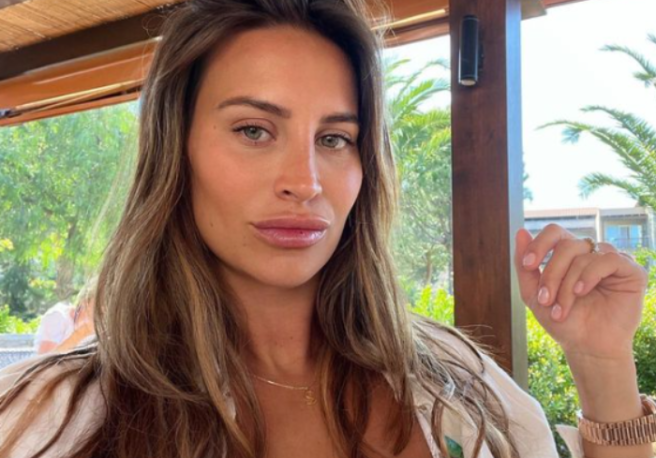 TOWIE star Ferne McCann teases gender of her second child
Ferne McCann has been trying to guess her baby's gender!
The former star of The Only Way Is Essex is currently expecting her second child, her first with her fiancé Lorri Haines. Ferne is already a mum to five-year-old daughter Sunday, and Lorri also has a six-year-old son from a previous relationship.
The 32-year-old is currently starring in the new series of her ITV reality show, First Time Mum.
During last night's episode, Ferne came to the conclusion that she knows whether she will be giving birth to a boy or a girl.
In one scene, Ferne discussed her ongoing pregnancy symptoms with Lorri, and noted one particularly prominent one.
"The one thing that I've had is migraines," she revealed. "I just spoke to my mum on FaceTime and I can't remember ever getting migraines before."
However, Ferne then came to a dramatic conclusion. "But she said to me 'no you definitely did [when pregnant with Sunday]' which leads me to think we're having a girl," she exclaimed.
Lorri subsequently joked that that was a scary thought for him! "A house full of women, I can't bloody wait," he teased.
Ferne and Lorri initially confirmed the news of their pregnancy earlier this month. Rumours about the couple's first child together had been rife for weeks prior to their announcement.
"We are having a baby @lozzahaines," Ferne gushed in her caption at the time. "We have been bursting at the seams with happiness & so excited to officially share our lovely news with you."
During their first pregnancy interview with OK!, Ferne shared that she and Lorri had decided not to find out the gender of their child before she gives birth. However, the reality star did disclose that she would be delighted if Sunday had a sister.
"I would love a girl, just because I've got my girl's name and I feel like a girl mum because I've got Sunday," Ferne detailed.
"I can only see myself with girls," she added.