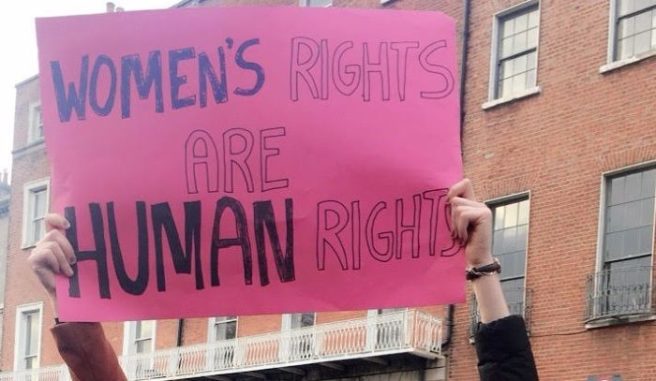 5,000 Irish women marched in solidarity with Washington
Today, up to 5,000 men, women and children set out from the Garden of Remembrance in Dublin City to march in solidarity with the Women's March on Washington.
Banners flew and drums were beaten as people congregated to demonstrate that sexism, racism, and homophobia will not be tolerated.
A steady chant of "anti-women, anti-gay, Donald Trump go away" was the backing track to the march, as people the world over sought to make a statement to the 45th President of the United States on his first day in office.
I dare you to grab me #womensmarchgalway pic.twitter.com/3TwSqGXKWi

— ShrillSister Siobhán (@WellNowUniverse) January 21, 2017
Organisations such as the Union of Students in Ireland, the Abortion Rights Campaign, the Coalition to Repeal the 8th Amendment, the People Before Profit Alliance and the National Women's Council of Ireland were all present.
The march kicked off at around 12 noon, and the crowd made its way down O'Connell Street.
@BuzzFeed #womensmarchdublin #WomensMarch pic.twitter.com/3YAqjJCpzi

— Eileen Denham (@eileen_denham) January 21, 2017
Go Rosie Go! #WomensMarch #WomensMarchOnWashington #womensmarchdublin #toddlersagainstnaziscum pic.twitter.com/s6U1a2vtpu

— Áine (@AineMcD) January 21, 2017
The march was intended to end in a rally outside the GPO, but due to the huge number of participants, the culmination of the march had to be moved back to the Garden of Remembrance.
A number of marchers gave rousing speeches from the DIY palette podium, from Colm O'Gorman of Amnesty International Ireland to Molly Cyr from the Abortion Rights Campaign.
Some abortion rights chats at the #WomensMarchDublin today #WomensMarch #repealthe8th #abortionrights pic.twitter.com/suyM7C3nUd

— Sarah Magliocco (@SarahMagliocco) January 21, 2017
A similar demonstration also took place in Galway City's Eyre Square.
SHEmazing! followed all the action live over on Facebook and Snapchat, at @Shemazingie.