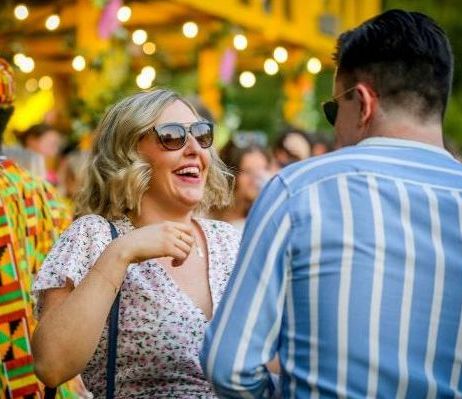 The 'Big Grill BBQ & Food Festival' has a sensational lineup this weekend
This weekend's Big Grill BBQ & Food Festival is kicking off in the lush green setting of Dublin's Herbert Park this weekend (Thursday 17th to Sunday 20th August) and it is set to be the biggest one yet with the best ever line-up of Irish and international chefs, restaurants, pitmasters and barbecue experts flying in from around the world and travelling from all over the country.
What's on the menu?
The festival's hero dishes and menu highlights are guaranteed to make you go 'Mmmm yes, I'll have some of that please,' so here's a snapshot of some of the dishes on offer at Big Grill 2023 this weekend. There's something for all the family to enjoy!
Andy Stubbs of Low and Slow serving up free range smoked pork ribs, vinegar slaw and bread and butter pickles, also joined by Billy Durney (Saturday only) cooking his smoked bacon ribs with grilled hispi cabbage – a unique take on Ireland's traditional bacon and cabbage combo
Pat Martin's West Tennessee Whole Hog, part of the end of festival celebrations on Sunday afternoon, will see two extra large Oxford Sandy pigs from Dermot Allen's Winetavern Farm slow-roasted in a traditional brick pit for 30 hours, before being chopped and served with slaw in a bun, the old-school way.
Hang Dai, joined by American chef Andy Ricker. Hugely passionate about Northern Thai cooking, Andy will join the Hang Dai team (when not on the Bastecamp stage!) to cook his favourite Baa Mii Tom Yam Muu Daeng — wheat noodles with roasted red pork, tom yam flavours, peanuts and long beans. Don't miss the incredible Hang Dai duck pancakes too, featuring wood-fired Skeaghanore duck, Irish leeks, cucumber and finger-licking duck sauce
Hawksmoor, making their festival debut with grilled native grass fed beef with ember baked onions, bone marrow garlic butter and focaccia
Mursal Saiq from Cuepoint London, one of the UK's first inclusive BBQ companies, is bringing Afghan-London BBQ to Big Grill with oak smoked beef rib on fluffy Afghan naan, Jameson Black Barrel BBQ Sauce, jalapeño jam and pickled chilli farnish
Team Reyna and their custom built, vertical charcoal döner grill cooking Irish lamb döner kebabs with Turkish salad, flatbread and garlic & chilli sauce
The Chimac crew are mixing it up with Korean cheesesteaks of thinly cut ribeye, marinated Bulgogi style, with peppers, onions and caramelised grated potato (to catch that moreish jus)
The world of BBQ has something for everyone to enjoy and the team at Big Grill are always committed to showcasing the chefs and restaurants that pack serious flavour into their dishes, featuring all kinds of vegetables, seafood and cheese on the grill as the hero ingredients.
Keep an eye out for:
Neighbourhood's wood-fired courgette flatbread with smoked garlic and lovage emulsion, brown butter, hazelnut dressing and Knockalara cheese
BBQ'd Scamorza crostini from Crudo, using Remus' crusty sourdough, with flame-roasted Toonsbridge Scamorza cheese and chilli crisp honey or burnt onion jam
Bites by Kwanghi's BBQ miso aubergine marinated in chilli and black garlic with pickled sweet corn
And the best bit? All the hero dishes we've shared so far are priced at just €7 each.
For more follow all the action @biggrillfestival and for tickets and the full festival line-up see www.biggrillfestival.com.