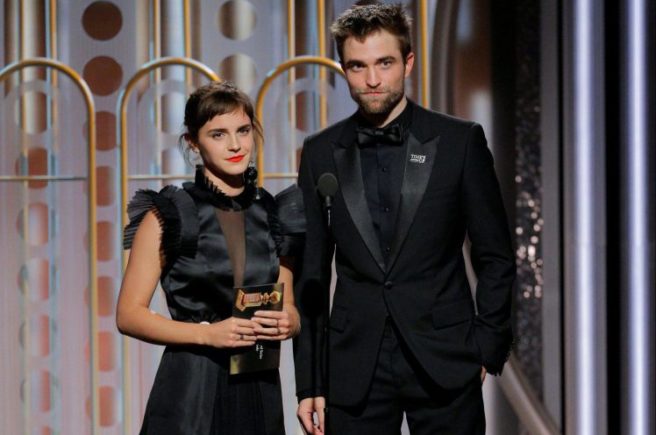 This mini Harry Potter reunion was everyone's favourite GG moment
Harry Potter fans could hardly contain their excitement during last night's Golden Globes ceremony, after two of the series' best-loved characters reunited on stage.
Emma Watson and Robert Pattison caused a bit of frenzy when they teamed up to present the Best Television Limited Series to the winner Big Little Lies, some 13 years after appeared on screen together.
For those of you unfamiliar with the pairing, cast your minds back to 2005 when the actors starred as Hermione Granger and Cedric Diggory in fourth film in the magical franchise, Harry Potter an the Goblet of Fire.
Emma Watson and Robert Pattinson 2005/2018 #GoldenGlobes pic.twitter.com/Dw6EAbFzKD

— danyelle (@scamand3r) January 8, 2018
It was Robert's first big movie role and was no doubt the launching pad for a successful career that saw him go on to star as Edward Cullen in the Twilght saga and a host of independent films such as Remember Me and Water for Elephants.
Needless to say, the mini reunion sent Harry Potter fans into overdrive with many hoping that the duo would be joined by Gary Oldman who played Sirius Black in the series.
Here's some of our favourite reactions:
My reaction when Emma Watson and Robert Pattinson presented together #GoldenGlobes pic.twitter.com/7PO0uqhmvS

— Arely Del Toro 🙂 (@Mu5icGam3s) January 8, 2018
okay but Emma Watson and Robert Pattinson presenting together made my Harry Potter heart so happy

— Ameenbean (@ameenachaudhry) January 8, 2018
I'M SORRY BUT TO INTRODUCE EMMA WATSON AND ROBERT PATTINSON AS ANYTHING OTHER THAN HERMIONE GRANGER AND CEDRIC DIGGORY IS ABSOLUTELY DISRESPECTFUL!!! #GoldenGlobes

— Alise Navidad (@fatlise) January 8, 2018
teenage me is losing her goddamn mind at Emma Watson and Robert Pattinson presenting an award together #GoldenGlobes

— Katie Minard (@KatieMinard) January 8, 2018
Robert Pattinson and Emma Watson presenting together at the #GoldenGlobes It's a #HarryPotterReunion y'all! pic.twitter.com/fWBjP1xDvT

— IccaSpriggs (@IccaSpriggs) January 8, 2018
But Emma Watson, Gary Oldman, David Thewlis and Robert Pattinson are all there… can they take a picture together and bring me back into the Harry Potter world?#goldenglobes

— emilia and kit (@valyrianperrie) January 8, 2018
When Emma Watson and Robert Pattinson walked on stage together I literally screamed "HERMIONE AND CEDRIC REUNITED"

— Martina F.D. (@martinafd) January 8, 2018