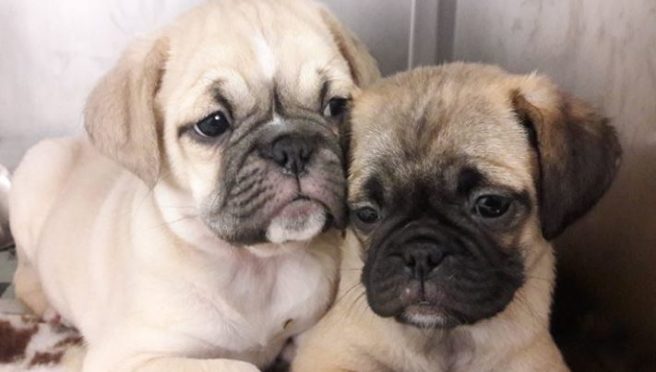 These puppies were seized in hand luggage at Dublin Port today
According to emerging reports, a woman has been stopped at Dublin Port after officials discovered she was carrying four pugaleer-type puppies in her hand luggage.
The woman, with an address in Scotland, was boarding a ferry bound for Holyhead when she was stopped in the capital.
Unable to produce any documentation for the animals, the woman, who explained that she had bought the dogs from an online seller, was forced to place the puppies in the care of the DSPCA.
As it stands, Irish and UK law state that any dogs being transported between Irish and the UK must possess an up-to-date Pet Passport with records of vaccinations, microchips and veterinary certificate.
It has been established that the DSCPA are investigating the incident, and have advised the public that the animals are not up for adoption as of yet.
Taking to their Facebook page, the organisation highlighted the incident with the public, writing: "This seizure brings to light once again the issues surrounding the sale and origins of puppies bought in the Republic of Ireland."
"The DSPCA strongly believe that the origin of all puppies and dogs should be declared and be verifiable," they added in a post which contained photographs of the four animals at the centre of the incident.