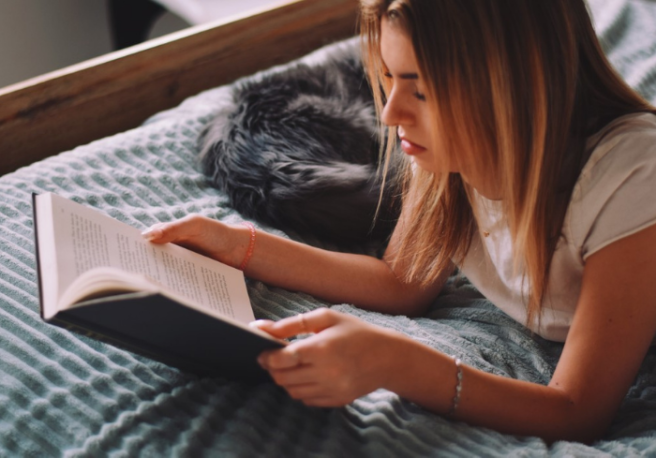 These are the romance novels you NEED to read during your lifetime
Who doesn't love a great romance novel?
At any spare moment we get, we love being swept up in the hazy glow of a gripping love story. Whether it is filled with tropes, is written in the most obscure of settings, or has a tragic ending that makes us weep, we're almost guaranteed to fall deeply in love with every single one.
If you're currently feeling the need for a little bit of romance in your life, and you're eager to start reading a new book, then you have come to the right place! Below, we have set out a list of some of our all-time favourite romance novels.
Some of these are absolute classics, whereas a few of them have only been published within the past few years. So, regardless of what your favourite genre of romance is, there is bound to be something in this collection that tickles your fancy:
Pride and Prejudice by Jane Austen
Arguably the romance novel that paved the way for many others, Jane Austen's Pride and Prejudice follows the five Bennet sisters, whose mother is desperately trying to find husbands for them. When the enigmatic (and insanely wealthy) Mr Darcy moves close by, the girls' interests are piqued – but the quick-witted Elizabeth Bennet is immediately turned off by Mr Darcy's apparent snobbery. Will the pair ever find a common ground?
The Bridgerton Novels by Julia Quinn
You've watched the seasons on Netflix, but have you ever read the books? Each Bridgerton novel follows one of the eight Bridgerton siblings, in their quest to find a perfect love match. Whether it be Daphne's swoon worthy courtship with the Duke of Hastings, or the friends-to-lovers story of Colin and Penelope, you'll fall in love with these books!
One Day by David Nicholls
This bestselling novel by David Nicholls has captured our hearts ever since we first read it. On July 15, 1988, strangers Emma and Dexter have a brief dalliance with each other on the night of their university graduation. The next day, they agree to go their separate ways, but on July 15 for the next 20 years, the two always find their way to come back to each other. Be warned, this one is a tear-jerker!
It Starts With Us by Colleen Hoover
This novel was only published in October of last year, but its highly-anticipated arrival made it an instant hit! As the follow up from the bestselling It Ends With Us, this sequel picks right where the first book left off (no spoilers!) and delves into Atlas' story as he tries to navigate his relationship with Lily, whose life is becoming increasingly complicated.
The Flatshare by Beth O'Leary
This book is such a sweet little read! Living in the heart of expensive London, Tiffy and Leon share a flat together. However, the pair have never met – Leon works nights and stays at home during the day, whereas Tiffy has the space to herself on nights and weekends. The housemates start leaving each other simple notes about their living space, and soon begin to develop a close bond. However, it's never a good idea to fall in love with your roommate… right?
The Seven Husbands of Evelyn Hugo by Taylor Jenkins Reid
This novel stormed TikTok and became a huge hit, and we are still obsessed with it! Legendary actress Evelyn Hugo begins to recount her days in the golden era of Hollywood to journalist Monique. As Evelyn amazes with her stories, she not only recalls her string of various husbands, but also unveils some of the biggest secrets from her time in the spotlight – including the great, forbidden love of her life.
Jane Eyre by Charlotte Brontë
Another classic from the bookshelf, the story follows Jane Eyre, an orphan who has felt lost her entire life. When she is taken to Thornfield Hall and hired by Edward Rochester to care for his ward Adèle, Jane almost immediately falls in love with him. However, everything at Thornfield Hall is not what it seems, and Jane will soon discover that her beloved Mr Rochester has been keeping something from her…
Me Before You by Jojo Moyes
You'll definitely need tissues for this one! Carefree and spirited Louisa Clark takes on the role of being the caretaker of irritable Will Traynor, who was tragically paralysed following an accident. The pair initially get off on the wrong foot, but over time, Lou and Will begin to realise that they might just be each other's perfect match. However, in order for them to have a chance at happiness together, Lou concludes that Will needs to rediscover his love for life first.
Normal People by Sally Rooney
We were all dazzled by the TV adaptation of this gorgeous romance novel, but now it's time to read the book! Normal People follows teenagers Connell and Marianne, who come from vastly different worlds but are secretly enamoured with one another. As the two of them start studying at Trinity College, miscommunications, jealousy and fears of committment lead Connell and Marianne to question if they are ever meant to be together.
The Time Traveler's Wife by Audrey Niffenegger
A love story like no other! On the outside, Henry and Clare seem to have the adoring, perfect marriage that everyone dreams of. However, unbeknownst to many, Henry has a genetic disorder that causes him to time travel unexpectedly. As Clare struggles to lead a normal life with the constant absences of her husband, the pair are left to rediscover their love for one another by travelling back in time.