The Kingsley hotel is a MUST for a weekend away in Cork
The Kingsley is a luxury 4* hotel situated in the heart of Cork City and overlooking the idyllic River Lee.
With 131 bedrooms specifically designed with comfort in mind, your stay, whether it be for business or pleasure, will bring you a sense of tranquillity and relaxation. From the Classic and Deluxe King Room Suites, to three luxurious Junior Suites or a lavish two-story Penthouse, you'll find the perfect accommodation type to suit you.
When it comes to dining at The Kingsley, there are plenty of options to choose from including Fairbanks Restaurant, The K Lounge and the award-winning The Springboard. You can also grab a drink in Fisher's Bar, a coffee and sweet treat in Bean & River or enjoy a delectable Afternoon Tea with a stunning view of the River Lee.
You can indulge at The Spa where there are a number of exquisite natural and wellness treatments available, from facials to massages, in order to help you forget about the outside world and truly relax. There is also a Luxury Thermal Suite that has a chromotherapy room, heated mosaic loungers, tropical rainforest showers, ice shower, spa pool and a range of heat and steam rooms.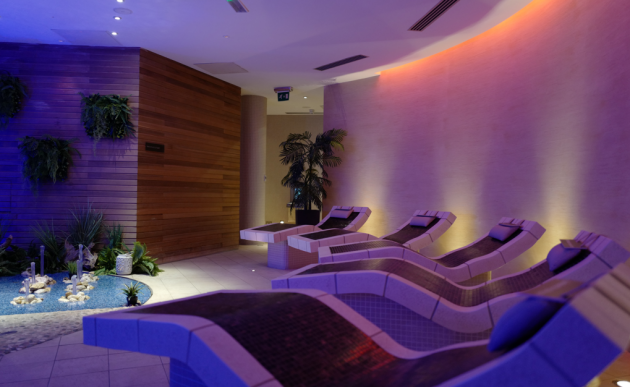 If you're in the mood to exercise during your stay, The Health Club has everything you need to get your workout done. With cutting-edge training equipment The Health Club's gym offers Technogym cardiovascular and strength machines including treadmills, cross trainers, wave machines, stepper, rowing machines, as well as upright and recumbent bikes. There is a Kinesis studio for wellness seekers that enjoy zero-impact exercises. There are a variety of fitness classes available, a large indoor swimming pool and an outdoor Hydrotherapy pool.
The Kingsley is located in a perfect spot to explore Cork City. With many things to do such as visit the renowned English Market, see a show at the Cork Opera House or Everyman Theatre, appreciate the art at Crawford Gallery, or spend time at the historial Cork City Gaol or Cork Museum, the local activities and attraction options are endless.
Our stay
My partner and I were delighted to stay at The Kingsley at the beginning of October for a relaxing weekend away.
When we arrived at the beautiful reception, we were warmly welcomed by friendly staff and checked-in in no time at all. Our double room was so gorgeous and oozed luxury. There was a stunning view of the River Lee right outside our window which made it feel as if we were worlds apart from the bustling Cork City.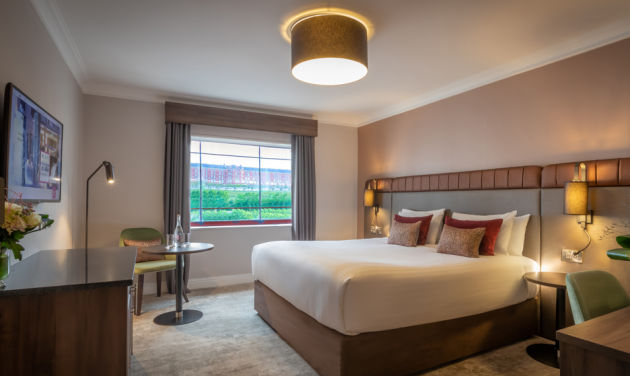 We were impressed by the room's SuitePad, which had information about the hotel and room service available on it, as did the flat screen television. After a day of travelling, we decided to stay in and settle into our room for the night. I made use of the lovely bath and enjoyed the Voya products in the room. There were also robes and slippers provided to add an extra feeling of comfort.
Breakfast the next morning was simply divine. There were so many buffet options from a cooked breakfast, pastries, fruits, honeycomb, yoghurts, cheeses and even pancakes you could make yourself with a self-service machine. We also opted to choose a breakfast item made straight from the kitchen, which was brought out to us promptly. I enjoyed the scrumptious French Toast while my partner had the delicious Omelette.
After a filling breakfast, we decided to go for a lovely walk along the River Lee and around UCC's campus, which is only a stone's throw away from The Kingsley. Following our day exploring Cork City and having a look around the shops, we headed back to the hotel to freshen up and prepare for dinner.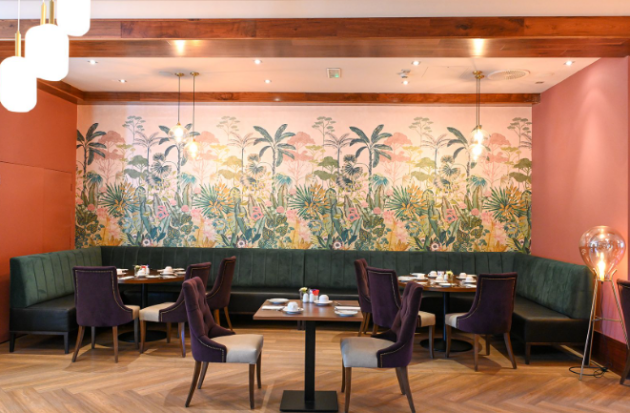 Our dinner was at The Springboard and can only be described as mouth-wateringly delicious. I had the Pan Roasted Scallops to start while my partner chose the Gochujang Glazed Pork Belly. For mains I just had to try the Grilled O'Connells 10oz Dry Aged Sirloin Steak and it was cooked to perfection. The Slow Cooked O'Connells Angus Beef Rib took my partner's fancy and the meat was so tender it fell right off the bone. Of course we had to finish our meal with dessert so we had the Bailey's Chocolate Dome and the Assiette Selection Plate of Desserts, along with a cappuccino. We thoroughly enjoyed our meal and it was made even better by the friendly and attentive staff. There was also live music in the restaurant which created a great atmosphere for our evening.
After a restful night's sleep, we tucked into another yummy breakfast in the spacious Fairbanks Restaurant. This time we ordered the Warm Pancakes and Eggs Royal to start off our day, as well as enjoying the broad array of buffet food. When it was time to check out, reception staff were very helpful again and we are already looking forward to visiting the hotel in the near future. Our experience at The Kingsley was exemplary and we couldn't recommend it enough for your next trip to Cork City.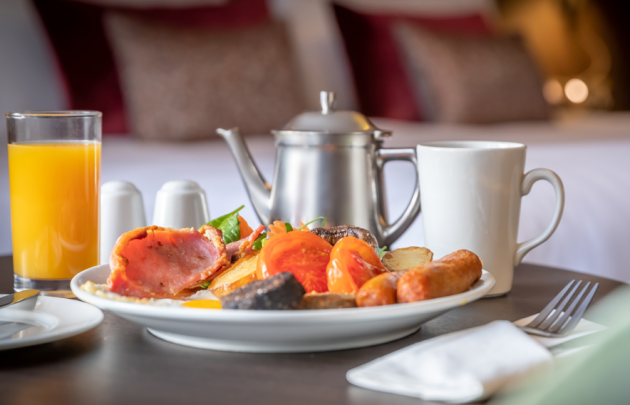 An Autumn break at The Kingsley
The Kingsley has everything you need for a memorable family break or weekend getaway with your pals this autumn. With its sophisticated and beautiful bedrooms, a bistro style restaurant, luxury spa and an extensive Health Club in the heart of Cork City, there really is no other option but The Kingsley.
Start your day with a coffee and sweet treat from Bean & River before heading off to explore the city. You can take a trip back in time with a visit to Cork City Gaol, while food lovers must ensure they head to the English Market to taste the local cuisine. The Crawford Art Gallery is a must for art enthusiasts, with over 4,000 artworks to see. Rest your tired feet with a trip to the Health Club, perfect for all ages, and for family members aged 16 and over, the outdoor Hydrotherapy Pool is not to be missed, with its memorable views over The River Lee.
In the evening, let the team at The Springboard Restaurant take care of dinner with a menu full of delicious dishes to suit every taste.
Family rooms at The Kingsley start from €254 per night including breakfast. Visit www.thekingsley.ie for more information.