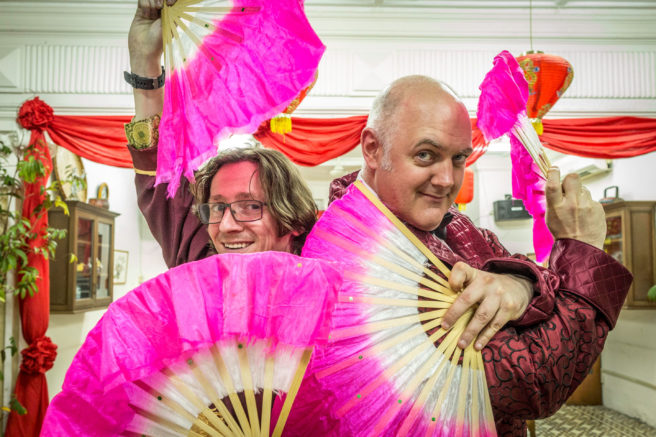 The Guardian called Dara Ó Briain 'British' and he wasn't having it
Another day, another British publication claiming our beloved Irish comedians as their own.
Ed Byrne and Dara Ó Briain have hit the roads of South East Asia for a three-part travel series, Dara and Ed's Road to Mandalay.
The programme, which kicked off on RTÉ One last Thursday, follows the duo as they mix with locals and visit some of the most exciting locations the region has to offer.
The series made its British debut on BBC 2 last Sunday, and sure enough, The Guardian had a thing or two to say about it the next morning.
Bravo @guardian telly review! Accuses us of cultural insensitivity, while in the same sentence subsuming Ireland back into Britain… pic.twitter.com/FhVRM2DcUR

— Dara Ó Briain (@daraobriain) May 8, 2017
It read, "The increasingly dull and unedifying formula of sending white British men to far-flung places in search of 'strange and quirky' aspects of other cultures."
"The latest are Irish comedians Dara Ó Briain and Ed Byrne who, in Dara and Ed's Road to Mandalay, travel across Malaysia in the first of a three-part series exploring south-east Asia, 'one of the most rapidly changing places on earth',"
However, the Wicklow native wasn't going to let this one slide.
Calling me and Ed "white British men" is also irritating since the show was clearly a celebration of Malaysia's hugely diverse culture

— Dara Ó Briain (@daraobriain) May 8, 2017
The word 'British was later deleted from the online review – but of course, Dara had to get the last word.
Ha! Well done @guardian! Now it just implies that you're bored of Irish people and our many travel documentaries. https://t.co/D1i7Zld3GR

— Dara Ó Briain (@daraobriain) May 8, 2017