That's not my name! How these 11 celebs got their perfect stage name
If things had gone differently, we'd know Gigi Hadid by a very different name these day.
She may have one of the most perfect supermodel monikers now, but Gigi actually grew up as Jelena Noura Hadid.
Yeah, it doesn't quite roll off the tongue does it?
According to Gigi: "A teacher asked my mom, 'If I needed to call Jelena a nickname, what would it be?' And my mom was like, 'I call her Gigi sometimes,' and the name stuck."
Thank goodness for that!
It turns out that the majority of our favourite celebrities were not actually born with their rock star names. Check out this list of some mundane, some surprising and some ridiculous celebrity name changes.
1) Suki Waterhouse
Suki is actually this British model's middle name. Her first name is actually Alice!
But apparently her ex beau Bradley Cooper used to use her real name and as you can imagine, people were a bit puzzled.
"I told him that that was my name when we first met, and I called him something else, too. It was just something fun, but then I stopped and he didn't, so he introduced me to everyone as Alice. It confuses people sometimes… "
2) Blake Lively
The lovely Blake's real name does not have quite the ring to it. Blake's real surname is Brown but her father opted to break the marital tradition and take the surname of Blake's Mum, Elaine instead.
Blake Brown. Not so much.
3) Jude Law
Jude Law is actually not a Jude at all, but a David. He decided to use his middle name as his celebrity persona.
It is quite amazing that the name Jude adds about ten times more sex appeal.
4) Elizabeth Banks
Elizabeth Irene Mitchell was the real name of this famous lady. As Elizabeth rose to fame, she was forced to change her name as there was another Elizabeth Mitchell working in the biz (you may recognise her from Lost).
How did she choose her stage name?
"I made a list and then alphabetised it, and Banks was the first one on the list. And I called [the Screen Actors Guild] and they said it was available, so I said, 'I'll take it!' I just wanted it over with!"
5) Lily James
Lily changed her surname from Thomson to James to honour her late father, James Thomson, who died in a car crash in 2008.
6) Calvin Harris
Calvin's real name is actually Adam Wiles.
As for why he changed his perfectly normal name to another perfectly normal name, we have no idea.
7) Katy Perry
Having a name that sounds too similar to another star sounds like a pretty common problem for celebrities.
Katy Perry changed her name from Katheryn Elizabeth Hudson because it was decided it sounded too similar to Kate Hudson.
8) Olivia Wilde
Olivia changed her surname from Cockburn in favour of adopting the surname of Oscar Wilde.
Why you ask? To honour coming from a family full of writers (even though she has no relation to Oscar whatsoever).
9) Joaquin Pheonix
Joaquin's whole family changed their surname from Bottom to Pheonix after leaving a religious CULT.
We can understand why they would have wanted to leave that past behind them, but we think changing the surname Bottom was a good idea in general.
10) Helen Mirren
In perhaps the most shocking reason EVER for a name change, Helen Mirren was actually born Ilynea Lydia Mironoff.
The Oscar winning actress and her family were stranded in London during the Russian Revolution and her father decided to change her name to avoid being her being treated suspiciously during the Cold War!
11) Nicolas Cage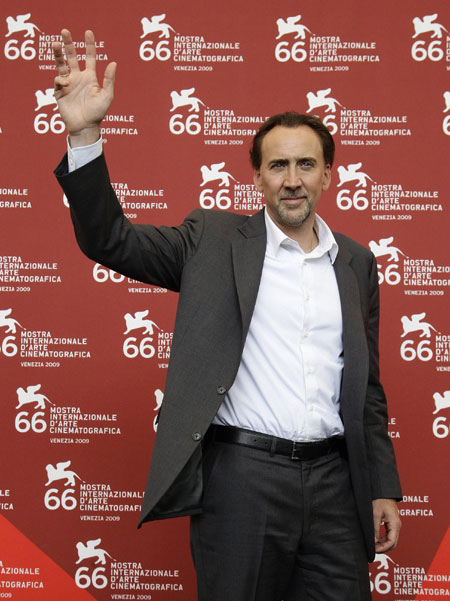 Did you know that Nicolas Cage was the nephew of legendary director Franics Ford Coppola?
Well as you can imagine that surname is pretty well know which is why he changed his surname to Cage so that people would not discover the link. We think it worked!