Taylor Swift is selling snake rings after leaking her new single video
Taylor Swift is officially back after taking a social media sabbatical by deleting all of her accounts.
Taylor has been leaking some mysterious videos on her empty pages, featuring snakes.
In case you have been living under a celeb-repelling rock, it is believed that the snakes are a homage to Kim Kardashian's previous emoji comment last year.
Official #LWYMMDvideo world premiere.
Sunday 8/27 at the @vmas pic.twitter.com/tjAxr8qdsY

— Taylor Swift (@taylorswift13) August 25, 2017
Since leaking the videos, Taylor, has actually launched a brand new single, Look What You Made Me Do, which she revealed she will be performing at the VMAs this coming Sunday.
In the clip she leaked about the VMAs, Taylor can be seen on a throne of snakes and dressed in reptile-inspired couture.
She also dons an intricate snake ring, which fans have become obsessed with. Never one to leave her fans wanting for much, Taylor is now selling the rings on her online store, and they're actually not too pricey for a piece of celeb bling at sixty quid.
THE SNAKE RING I'M IN LOOOOVEEEEE #TaylorSwiftIsBack pic.twitter.com/gwgq5SMKj5

— Robbie (@rob_brom) August 25, 2017
Taylor is clearly taking back control of the narrative and reclaiming the snake symbol, an emoji which was used as a massive insult towards her last year.
While it definitely looks like it's a directed dig at Kim K, at least Taylor is taking a stand for herself.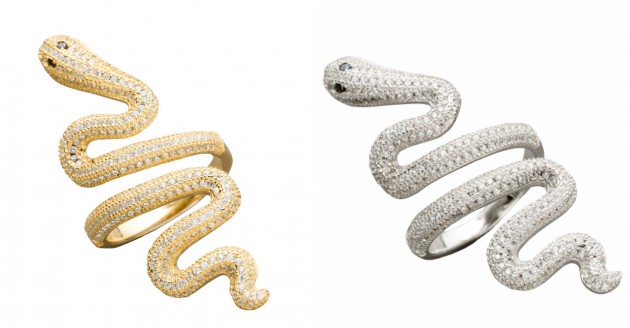 What are your thoughts on Taylor's snakey comeback?