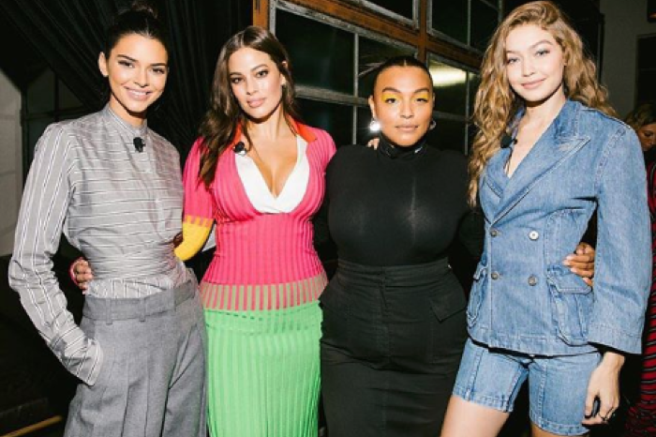 The world was shook when numerous allegations of sexual assault in Hollywood covered the news.
Soon the #metoo movement formed, encapsulating female empowerment and giving a voice to those who had been made silent for years.
And models in the fashion industry have confirmed that the tide is turning for females around the world.
Gigi Hadid, Kylie Jenner, Ashley Graham, and Paloma Elsesser recently joined together at Vogue's Forces of Fashion conference to discuss body shaming, feminism, life as a model, and the effect #metoo has had on authority figures.
mirjanalookstyler: "Models on stage #kendalljenner #gigihadid #ashleygraham #vogue" pic.twitter.com/Mad58f54WE

— Gigi Hadid Daily™ (@gigihadidaily) October 11, 2018
Ashley credited social media as a major factor to this shift towards gender equality, saying that because girls can use Instagram and Facebook to comment on these current issues modelling agencies and Hollywood directors are realising what the public really wants – real women on screen.
Gigi agreed with her comments, adding her own experience with body shaming.
"I loved my body when I was curvier," she confessed. "Then as I lost it people were still mean.
"Yeah, I know I'm skinny. I'm looking in the mirror. I'm trying to eat burgers and do squats. I want an ass too."
The rest of the girls laughed alongside the young model, completely understanding her struggle with low self-esteem due to comments of being 'too fat' or 'too thin'.
"People feel that they have ownership over your body in society today and I think that it's really ridiculous because you don't – my body is mine," Ashley explained.
"I work out because I want to stay healthy and if I happen to gain 10 pounds or lose 10 pounds it's none of your business."
But this judgement of women's physicality is less common than it used to be, the models agreed.
Kylie excitedly said that #metoo has "brought empowerment to women" and now a lot more of us are speaking up when we're being mistreated.
"Ya, men are becoming more sensitive", Ashley agreed. "Women are taking action and having these conversations. The set has actually changed".
#AshleyGraham
Mwah! The #model blows a kiss as she leaves #Vogue's #ForcesofFashion conference in #NYC . #runway #runwaymagazine #official #news pic.twitter.com/VZlu7COC0X

— RUNWAY (@Runway) October 12, 2018
Paloma said that modelling in 2018 has been a completely different experience than past years.
I have been asked more than ever over the past year, 'Do you feel good?' when trying on clothes for photo shoots, she confessed.
And she feels better than ever in her own skin. In fact, one of her tricks, she revealed, is spending time naked with herself. It has helped her become more comfortable with her appearance.
When asked to give advice to girls in this changing social environment, Kylie told the audience to be "super authentic and genuine and to find a job you love doing".
"I've learned to always trust your intuition and trust yourself", Gigi stated.
It is inspiring to see feminism taking hold in this generation more than ever, revolutionising pop culture as well as society on a personal, individualistic level.
And recent fashion shows, like Rihanna's lingerie line debut, have only proved that by publicising the commonality of and absolute beauty in diversity of race, colour, size, gender, etc.
Women are a force to be reckoned with and it's exciting to see the world recognising that more and more each day.