The world is now aware of Kanye West's phone password, and it wouldn't take a genius to hack this one.
In case you weren't aware, Kanye West has inadvertently revealed during a meeting in the Oval Office with Donald Trump that his phone password is…
Wait for it…
000000.
Yep, you read that right.
A global musician with cameras on him at all times has possibly used the weakest lock code of all time. "OF ALL TIME!" as he once shouted at Beyoncé from the 2009 VMA stage.
If anyone can name a more dense password code, please let us know.
Kanye just unlocked his iPhone before the TV cameras in the Oval Office. And his password is just 0 repeatedly pic.twitter.com/mOAbhRLr7s

— Steve Kopack (@SteveKopack) October 11, 2018
He was in a meeting with a political figure who literally has nuclear codes, but his penchant for privacy clearly doesn't parallel with the US Oval Office.
Not that Trump is a model of privacy, he seems to want the entire globe to know his thoughts at all times on Twitter.
Nevertheless, West's password is the least of his controversial troubles right now.
He met with the President to discuss "male energy", prison reform and technology, suggesting that he admires Trump's obsession with masculinity in order to feel strong himself.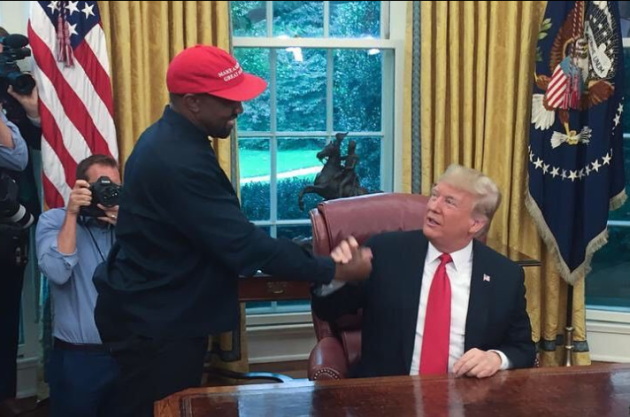 Maybe he wants his phone to get hacked, so people can read all of his monologues to himself hidden in the notes section of his precious iPhone X?
West pulled out his phone while elaborating on his political ideas to Donald Trump, repeatedly claiming to agree with him on the topic of America's greatness.
His Make America Great Again hat caused a stir, as per usual.
West continued with his empowered speech, saying that the President's public perception affects the entire world: "If he don't look good, we don't look good."
Therefore Trump "has to be the freshest, the flyest… the flyest planes, the best factories." It's unclear whether West will propose a new iFactory, too. We're going to have Apple — an American company — work on this plane."
Better pic of "iPlane 1" pic.twitter.com/mihq37FASj

— James Titcomb (@jamestitcomb) October 11, 2018
If anyone else has this password, we recommend you change it, for your own sake.
Especially if dozens of TV cameras are on you in the most important office in the world.
Feature image: Instagram/@starseeds_unite