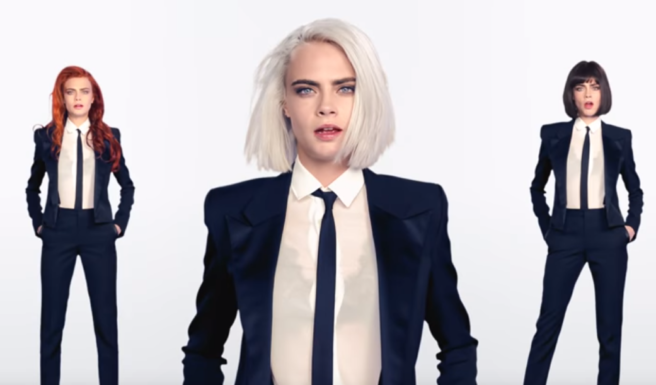 Not content with dominating the worlds of fashion and film, triple threat, Cara Delevingne, is now trying her hand in the music industry – but fans aren't convinced.
The 24-year-old shows off her singing skills in the newly-released single, I Can Feel Everything – a song recorded for the soundtrack of her latest film, Valerian and the City of a Thousand Planets and produced by Pharrell Williams.
The video is a montage of scenes from the upcoming flick cut with shots of the actress sporting a number of brightly coloured wigs.
Cara's quirky personality is clear to see as she dances in front of the cosmic background while pulling faces at the camera.
And while we can't say we're loving the song, we've got to hand it to Cara for trying to make a name for herself doing something she loves – and who knows, maybe it's a grower?
Fans of the model turned actress seem to be equally conflicted and many have taken to Twitter have their say.
I'm incredibly uncertain how to feel about Cara Delevingne's new (& first) song. It's not bad I'm just… Uncertain https://t.co/rvUWCEHVOE

— Wayne Pentony (@WaynePentony) July 28, 2017
How has Cara Delevingne, aka coolest woman alive, brought out SUCH A BORING SONG

— Chloe Turner (@chloetea_) July 28, 2017
Trying to figure out if I actually like Cara Delevingne's song or just like it bc it's Cara Delevingne

— GaebrieIIe (@TheeGreatGabby) July 25, 2017
Feel kinda mad a whoever told Cara Delevingne that she could make a song for the Valerian soundtrack tbh. Also kinda bad for her…

— Wil (@wilcoclahas) July 25, 2017
@Caradelevingne new song is bizarre its sounds like a B-side from a 90s pop star getting in touch with their soul side but in an ok way!

— Valerie (@Valoolery) July 28, 2017