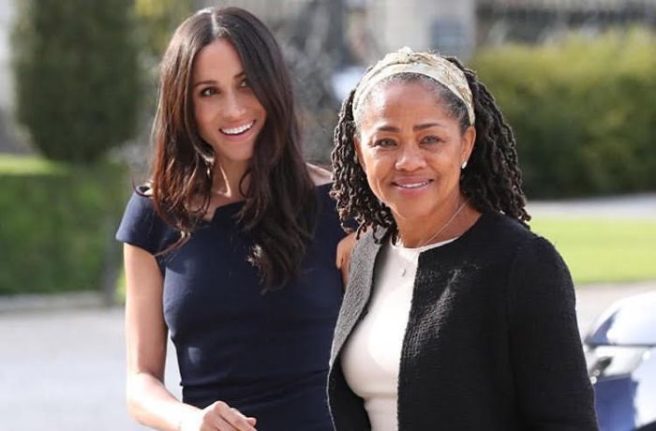 Meghan Markle has had a difficult year when it comes to navigating the complexities of family life now that she is a member of the British royal family.
Her mother, Doria Ragland was the only member of her family to attend her May nuptials to Prince Harry.
While Meghan spent her first Christmas as a newlywed and expectant mother with the Queen at Sandringham, her mother Doria was not in attendance.
It was widely reported following the wedding that Doria had been personally invited to spend the festive season with the royal family.
If this was true, she clearly politely declined the offer, opting instead to spend the holidays in Los Angeles.
Doria was photographed by paparazzi in the US as she exited her home to collect her post. It is reported that she spent Christmas alone based off the fact that she was photographed collecting her post alone, but for all anyone knows she stepped out of a house full of friends and family.
The world was captivated by Doria Ragland's calm disposition as she sat alone during Meghan and Prince Harry's wedding ceremony. The mum was praised for being so independent and strong, however, the public couldn't help but feel for her, as she was the only member of Meghan's family at the wedding.

Her dad Thomas Markle was slated for missing out on his daughter's big day, but he has since hit back at the haters.

Thomas Markle has opened up about missing that monumental day in an emotional interview with ITV's Good Morning Britain.

Shortly before Harry and Meghan tied the knot at St. George's Chapel, it was revealed that her dad would not be attending the wedding.

He admitted that his daughter was heartbroken when he told her he wouldn't make it to the wedding.

The dad revealed that he shared the news with his 36-year-old daughter in an emotional phone call just days before the wedding.

"They were disappointed. Meghan cried, I'm sure, and they both said 'Take care of yourself, we are really worried about you'."

Thomas said that despite the claims he genuinely wanted to be at the wedding, "I absolutely wanted to walk my daughter down the aisle."

Meghan's Dad: I was watching my daughter get married from a B&B after my heart surgery.
Thomas Markle tells @GMB. 'I couldn't have been more proud' and 'how can I ask for a better replacement' than Prince Charles? pic.twitter.com/hxa3yr3Yxr

— Chris Ship (@chrisshipitv) June 18, 2018

He may not have been there to celebrate with his daughter and now son-in-law Harry, but Thomas got to watch the ceremony on tv.

He stated that it was a joy to see his daughter walk down the aisle, adding that she looked beautiful.

"I was very proud. I was very upset that it wasn't me [walking her down the aisle] but the whole world was watching my daughter. I was very happy about that," he expressed.

He added: "The unfortunate thing for me now is I'm a footnote in one of the greatest moments in history rather than the dad walking her down the aisle. That upsets me somewhat."

The proud dad gushed about his daughter and told the show that her happiness means everything to him.

"As long as they're happy and they have a great life and have some beautiful children and do good things in the world, I can't ask for more," he said.