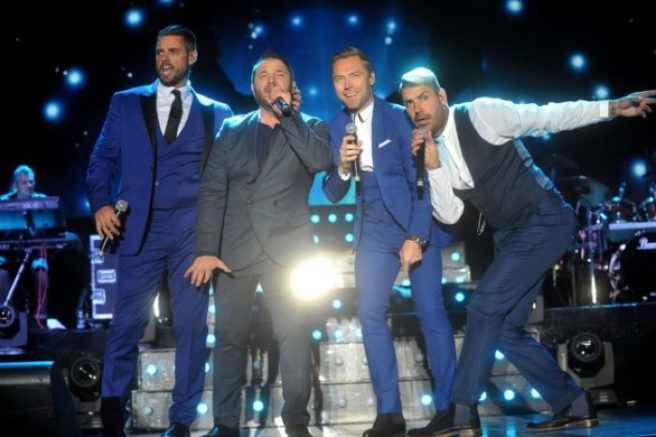 After a quarter of a century of Boyzone, the lads are closing this particular chapter in their lives.
The boy band, made up of Keith Duffy, Michael Graham, Ronan Keating, and Shane Lynch, just announced their final album and farewell tour.
"When we started out as five young Dublin Northsiders, eager to face the world, we never imagined that we'd still have an army of fans some 25 years later… If you'd seen our famous first TV appearance on The Late Late Show, you'd probably be surprised too!" they wrote in a statement on their website.
Boyzone has released six albums, and the members say their musical career has been 'the stuff of dreams'.
"We really can't put into words just how much you, the fans, have supported us along the way. Without that support, we would have never achieved what we have, and for that we're eternally grateful," they shared.
The four men also paid tribute to late Boyzone member Stephen Gately in the statement. He died at the age of 33 from pulmonary oedema, or fluid accumulation in the lungs.
"We were immensely touched by all the tributes and messages of support that helped us through the dark days," the band members wrote, "Stephen was our brother and will always be at the very the heart of Boyzone."
The four remaining members of Boyzone expressed that they feel they've outgrown their boy band days.
"We're certainly not boys anymore, and we all feel that we should now call time on our lives together as Boyzone and go out on a real high," they noted.
The band will be embarking on a farewell tour this winter, with a show in Belfast's SSE Arena on January 23 and another in Dublin's 3Arena on January 24, as well as gigs throughout the UK.
Tickets go on sale on Friday, June 22 at 9am.
Their last album is entitled 'Thank You & Goodnight', and it'll be out this November with a dozen new tracks, including one dedicated to Stephen:
"We're especially excited to share a very special tribute to Stephen in the shape of a new song, 'I Can Dream.'
"We came across a demo that he originally recorded for his solo album in 2002 and we've had the opportunity to re-work the song and add our harmonies alongside his lead vocal.
"It was a bittersweet experience to hear all our voices together again. It's the closest the five of us will ever get to being in a room together again making music."
They added, "We know this love's forever. That's all that matters, no matter what…"